Kevin Arnovitz of ClipperBlog, newly hired as an editor at ESPN.com (more on that soon), weighs in on Elgin Baylor's unusual tenure as an NBA general manager.
Elgin Baylor's first day on the job as the vice president of basketball operations for the Los Angeles Clippers was an eventful one. The team held a press conference at the LA Sports Arena the afternoon of April 15, 1986, to announce that Baylor was replacing general manager Carl Scheer. The embattled Scheer had publicly feuded with owner Donald T. Sterling over the Marques Johnson trade and with then-27-year-old team CFO Andy Roeser over credit card expenses.
Baylor moved quickly to rehire Clippers' coach Don Chaney, whose contract Scheer had allowed to lapse. While Baylor and Chaney exchanged broad smiles, free-agent guard Derek Smith -- who was also present in the room -- grumbled about the Clippers' stingy contract offer. After the press conference, Smith told the Los Angeles Times, "I'm not happy with the way I've been treated. ... I'm leaving L.A. tomorrow for Louisville and I'm taking all my clothes and everything with me. The sun is nice, but I'm not crazy about the idea of playing here."
So began the second Elgin Baylor era in Los Angeles. Baylor celebrated his first era on the court as the first true basketball legend in Los Angeles. During the Lakers' inaugural season in Los Angeles, Baylor averaged 34.8 points and 19.8 rebounds per game. Baylor was an elegant improviser in the half-court and a preternatural rebounder, even though he was an undersized 6-5 forward.
As an executive, Baylor was an enigma -- a fact that's as much a product of circumstance as instinct. From the outset, Baylor had a unique arrangement with Sterling. Virtually every owner in sports demands winning as a mandate from his front office principal. But Baylor wasn't asked to achieve with the Clippers so much as to preside. No matter how bad things got for the Clippers, Baylor had unrivaled job security.
That's because Sterling wasn't looking for a visionary. He wanted an attendant. For most of Baylor's tenure, Sterling provided him with minimal payroll flexibility and refused to empower Baylor to make long-term deals -- though few free agents took interest in playing for a franchise that did everything on the cheap.
The Clippers' draft exploits under Baylor have been well-documented. The Clippers' woefulness afforded them a steady diet of high picks, and Baylor became a fixture in Secaucus each spring. But even apart from Sterling's budgetary handcuffs, Baylor managed to pluck bust after bust from the collegiate ranks. The procession of Clipper lottery flops included Michael Olowokandi, Reggie Williams, and Bo Kimble. Danny Ferry jilted the Clippers and actually inked a deal with Virtus Roma after Baylor drafted him with the second pick in 1989, forcing Baylor to deal him to Cleveland in a deal for Ron Harper.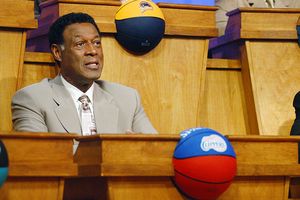 In 1999, Baylor took Lamar Odom with the fourth pick. A year later, he drafted Darius Miles and Quentin Richardson, and acquired Corey Maggette from Orlando. The Clippers' youth movement won only 31 games in 2000-01, but that doubled the team's win total from the previous year. Baylor dealt the Clippers' 2001 pick to Chicago in exchange for Elton Brand, which solidified his young core. For the first time during his tenure, Baylor conveyed a coherent organizational sensibility with his personnel moves. In some respects, Baylor molded his team in his own image -- a band of athletic forwards who could shoot, slash, and crash the boards.
The arrival of Mike Dunleavy as head coach in 2003 marked the first time Baylor had a real counterweight in the organization. Baylor was no heavy and he never reigned over Clipperland in any effective sense. But Baylor was the public face of the franchise for two decades. Yet it quickly became clear that Dunleavy arrived with certain assurances from Sterling regarding authority over the course of the franchise.
The Clippers improved under Dunleavy and became semi-relevant in the league. Prior to the 2005-06 season, the team attracted its first major free agent from outside the organization in Cuttino Mobley, and made a wily trade for Sam Cassell. In the spring of 2006, Baylor accepted the league's Executive of the Year award prior to Game 6 of the Western Conference semifinals.
As the Clippers foundered after the 2006 postseason, the franchise became increasingly dysfunctional. Elton Brand's sudden departure this past July triggered a circular firing squad from which nobody came out looking good. In commenting on the story, Brand's agent David Falk referred to Dunleavy as the Clippers' "quasi-GM" -- a cruel emasculation of Baylor. Blame for Brand's exit has never formally been assigned, but in the competing testimonies, it's curious that Baylor's name rarely surfaces.
While there might be an inclination to declare Baylor's departure as the end of an era, all indications are that Baylor's authority expired a few years back. In fact, given the constraints he abided by for 22 years as the custodian of Sterling's buy-and-hold asset, it can reasonably be argued that he never had any real authority whatsoever. However you grade his performance, Baylor will likely go down simultaneously as one of the most enduring -- and least notable -- executives in the history of sports.
(Photo by Jennifer Pottheiser/NBAE via Getty Images)