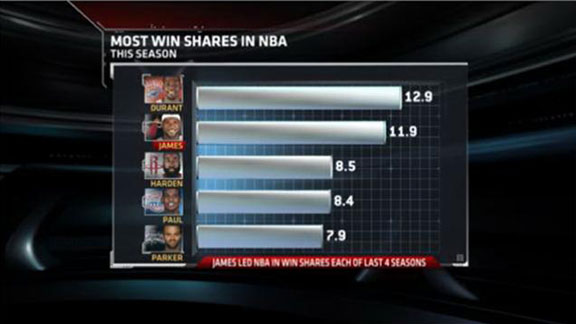 ESPN Stats & Information
Even with his torrid play of late, LeBron James still ranks behind Kevin Durant in Win Shares this season.LeBron James has garnered a lot of praise for his six-game streak of scoring and shooting percentage. However, if you look at a complete statistic that takes everything a player contributes to his team over the course of a season, James actually trails Kevin Durant.
The statistic is "Win Shares", developed by Basketball Reference building off the individual offensive and defensive rating framework established by ESPN Production Analytics' Dean Oliver. Win shares quantifies a player's overall impact on his team's winning – taking into account a player's individual box-score statistics in the context of his team's offensive and defensive performance. (For a detailed explanation, see Basketball Reference's page on calculating win shares.)
DurantThe statistic is not a be-all, end-all, but it does take into account most statistics people generally use to evaluate players, and gives a good baseline of how many wins a player accounts for. As of Wednesday, Durant leads the NBA with 12.9 win shares and James is second with 11.9.
For some perspective, LeBron has led the NBA in win shares each of the past four seasons with an average of about 17 win shares per season (including last year's lockout-shortened season). He's on pace for about 19-20 win shares this season, which would be the second-highest mark of his career.
The obvious follow-up question is how, and why, Durant rates ahead of LeBron. A lot goes into win shares, but let's break down some of the components that favor Durant.
Scoring & Shooting
LeBron has a higher field goal percentage and a comparable 3-point field goal percent, but Durant is a much better free throw shooter (90.4 vs 74.2). Given that Durant attempts 9.2 free throws a game (second in the NBA) compared to LeBron's 6.7, this is enough to boost Durant's true shooting percentage -- an overall measure of scoring efficiency that accounts for 3-pointers and free throws -- to 65.7, ahead of LeBron's 63.6.
So even with James' recent tear, Durant has been more efficient at getting his points. Taking into account their similar usage percentages (they take about the same percentage of their team's scoring opportunities), Durant has the slight edge when looking at the two players' ability to score.
Defense
Durant's defense has improved significantly over the years, and he's actually averaging more blocks per game and a similar number of steals per game as LeBron is this season. Even on a percentage basis, the two are very similar in steal and block percentages.
But team defensive performance -- which win shares takes into account since individual defensive performance is not well measured by the box score -- is a difference maker. The Thunder's defensive efficiency (overall and with Durant on the court) is better than the Heat's (overall and with James on the floor). Apportioning out the credit for his team's better defense gives Durant a slight edge when you look at his individual defensive rating or defensive win shares.
Minutes
James compensates for Durant's advantages in the previous categories by having a slightly higher rebound percentage (offensively and defensively), a slightly lower turnover percentage and a much higher assist percentage. If you just look at the efficiency on a per-minute basis, Durant has a slight advantage at 0.307 win shares per 48 minutes to LeBron's 0.304.
But win shares is a total stat that takes into account how much each player has played in addition to his efficiency. Durant averages slightly more minutes per game and the Thunder have played three more games than the Heat, giving Durant a 131-minute advantage. So when judging total value, Durant comes out about a win ahead.
Given that the two will meet on Thursday for the final time during the regular season, the fact that Durant leads James in win shares is even more timely. This doesn't prove that Durant has been better than LeBron, but it does show that when you take everything the box score says about the players and their teams into account, Durant has produced a bit more heading into the big matchup in Oklahoma City.