A lot of Portland fans will deny this happened.
But in the days leading up to the 2006 NBA draft, Portlanders rallied in the streets.
The scuttlebutt in the paper was that the team was on the fence, choosing between semi-local star Brandon Roy, and semi-local star Adam Morrison.
Those people on those streets ... they wanted Morrison. They wanted him badly, and they told that to the Blazer suits every which way they could -- with banners, with bullhorns, on talk radio, in blog comments, by calling the team's switchboard, and by pasting on little fake mustaches.
Little did they know that the Blazer braintrust was, thankfully, about eight steps ahead of them, and was about to forever change the direction of the franchise by turning one high draft pick and some loose change into two of the very best players in the draft, Roy and LaMarcus Aldridge.
Morrison, drafted by the Charlotte Bobcats, went on to face a torn ACL -- one of the worst injuries a basketball player can endure. But before he tore that ACL, he played a season. (Did you forget?) In his rookie year, ESPN's David Thorpe wrote:
Morrison averages 13.3 points per game, which leads all rookies by a wide margin -- but he is putting up 13.7 field-goal attempts per game and is shooting just 36.8 percent from the field. He's collecting only 2.8 rebounds per game, despite his 6-8 frame, and he is averaging just 2.0 assists per game, despite handling the ball often.

His player efficiency rating, which measures a player's overall contributions per minute, is 7.29 (the average PER is 15.00), which ranks Morrison last in the NBA by far among all players averaging 30 or more minutes. The NBA's only starter with a lower PER is defensive specialist Jason Collins of New Jersey, while Morrison is a disaster on defense. So, while harsh, it is fair to call Adam Morrison the worst regular in the NBA according to the stats -- at least so far this season.
Here's the good news: But for the diabetes that he swears has never slowed him down, he's healthy again, at last. (I just double-checked that today with the Bobcats.) Morrison has been quoted recently saying his knee is just about all the way better.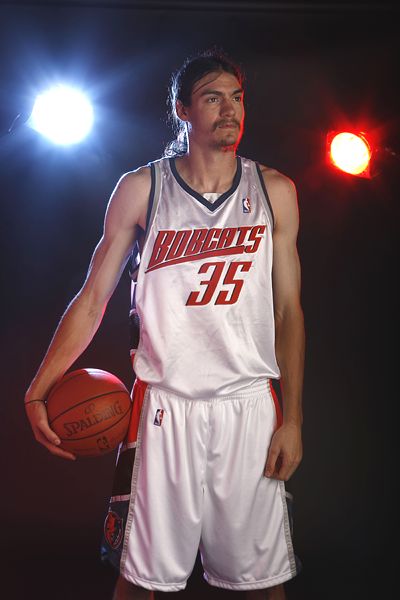 So, this pre-season might be a nice time for new coach Larry Brown to figure out what he has, right? Maybe see what he can do to make Michael Jordan, NBA executive, look a little better for taking the man they used to call "Ammo" fourth overall?
The multi-faceted scorer who led the NCAA in points per game, and stars in countless highlight tapes, can surely help this undermanned NBA team.
Maybe not.
I got an e-mail from TrueHoop reader Stephen, who writes: "I noticed Adam didn't play at all last night, and his PT has been limited in their preseason games so far. Is he still rehabbing, or just ... not that good? I liked the guy in college and hope his career pans out ok."
Thorpe has pointed out that in college, Morrison was taller than his defenders, and could score unmolested. Now that he has long NBA athletes in his grill, however, his shooting percentage has plummeted. He has shied from attacking the hoop where he has an array of floaters, and has instead been shooting jumpers with hands in his face. And it's no secret that he struggles to guard people at this level.
Fatal flaws? Is he as bad as it appears he might be? Is a guy who has some things to address like every young player, or is it possible he's not really cut out to play at this level?
Too soon, to tell, for sure. He has only been healthy again for a heartbeat.
But the early returns are not indicative of a reborn player. In Charlotte's first two preseason games, Morrison saw 45 combined minutes of playing time, during which he did not all that much. He hit half of his eight shots (he missed his two 3-pointers), made one of four free throws, had five rebounds, two assists, three fouls, two turnovers, and a grand total of nine points.
Remember, box score statistics unduly favor players who score well and are poor defenders. But even those numbers don't love him.
It's not hard to see why he got a "DNP-CD" (Did Not Play -- Coach's Decision" in Charlotte's most recent pre-season game.
Perhaps it's too early to start thinking that Morrison is fighting for his NBA life. But if things don't pick up for him quickly, that time is coming soon.
(Photo by Kent Smith/NBAE via Getty Images)