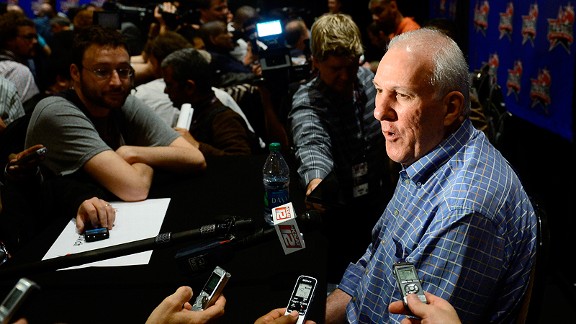 Bob Donnan/USA TODAY Sports
Step No. 1: Laugh at Gregg Popovich's jokes.
Somebody asked Gregg Popovich how the team found players who fit its system and culture so well.
Answering questions from the media often looks painful for Popovich. He approaches every media scrum with a skeptical eye, and has been known to blow reporters off or even snap at them. The potential for such an incident would seem to be even higher in this All-Star setting, which is famously a show of off-the-wall journo-silliness, much of it involving people who don't normally cover the NBA.
This was just Popovich's second question from the assembled masses, however, after he showed up several minutes late and batted away an opener about ranking Spurs teams through the ages. ("I don't know how to do that.")
After he noodled with the second question for a bit, deciding whether to really answer, you could see that he decided it wasn't the worst way to kick things off. This topic had merit.
"Well, between our management staff and our coaching staff, we do spend a lot of time together trying to figure out who we're bringing in before we do it. It's not just basketball. We want to know about, uh, what kind of sense of humor people might have, silly as that might sound to some. But I think humor's really important in any job. We want to find out an intelligence level, commitment level, if a player might understand a role or be willing to accept a role. And let him know ahead of time a lot of things about what's expected, so that if he's not going to buy it we don't have to waste time bringing him in and getting rid of him."
As Popovich fended off another question, asking him to predict if the Spurs would win this year's title ("Well, there are a lot of teams that hope to be the last team standing ...") I couldn't help but run through what one of the NBA's most venerated coaches had said, first, when asked what the Spurs look for in prospects. I love the idea of humor topping the list but was surprised to hear it there, from any NBA coach, let alone one of the league's more notorious cranks.
"Wait," I asked, "so do you run jokes by guys due to become Spurs to see if they laugh?"
"No," said Popovich. "You can just tell. I don't do any kind of standup routine or anything like that. I don't do any of that. But you can tell. You can bring things up in somebody's life, or in your life, that have happened in the world, mostly. How aware is a person. It tells you if he can fit in with other people. I already know about Timmy and Manu and Tony. I want them to be able to enjoy whoever gets brought in that's going to support them."
"Did you ever get rid of a guy for not laughing enough?"
"Absolutely," he deadpanned, without hesitation. "Especially if it's my joke."