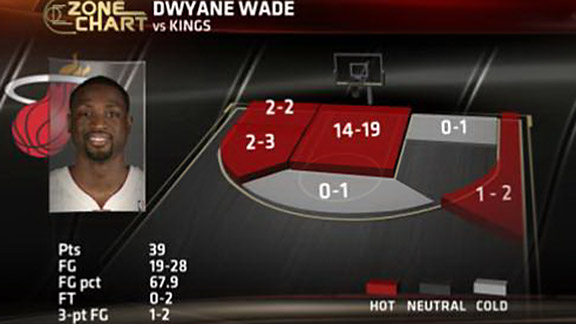 Dwyane Wade did his damage in the paint tonight as the Heat took care of the Kings.The Miami Heat beat the Sacramento Kings 141-129 in double overtime behind a monster performance from LeBron James, who finished with a season-high 40 points, a career-high 16 assists, and added eight rebounds.
The Elias Sports Bureau tells us he's just the second player in NBA history with multiple games with at least 40 points, 15 assists and five rebounds. The other is Oscar Robertson, who did it an incredible 11 times.
JamesHe finishes February shooting 64.1 percent from the field. According to Elias he's the first NBA player to shoot at least 64 percent in a calendar month (min. 200 attempts) since Kareem Abdul-Jabbar in March 1983.
James was responsible for 77 Heat points (40 points scored and 37 from his assists), tied for the second-most of his career and the most in more than four years.
Dwyane Wade scored 39 points without making a free throw (0-for-2 from the foul line), the most points by a player who didn't hit a free throw since Wally Szczerbiak had 44 on April 13, 2003 for the Minnesota Timberwolves.
2nd Overtime Tuesday in Miami
The 79 combined points from James and Wade are the most they've ever scored as teammates. They combined for 21 of Miami's 29 points after regulation (Chris Bosh accounted for the rest). James has 39 points in overtime this season, the most in the NBA.
As you can see in the zone chart up top, 26 of Wade's 39 points came from inside five feet. He made 13 field goals inside five feet, tied for the most in a single game in his career.
The Heat finished February 12-1, for a win percentage of .923. According to Elias, that's Miami's third-best calendar month in franchise history (min. 10 games played).
Quick Hitters
• The Heat have won a season-high 12 straight games, tying the longest win streak in the James-Wade-Bosh era.
• The 141 points ties Miami's franchise record for a single game (also had 141 in 1991 vs the Denver Nuggets).
• The Heat scored 29 points in the two OT periods combined (10:00). The Philadelphia 76ers, Golden State Warriors, Bulls, Dallas Mavericks and Timberwolves all failed to score 29 points in a 12-minute quarter tonight.
• Miami gave up 117.9 points per 100 possessions, their third-worst defensive efficiency rating of the season.
• DeMarcus Cousins had 24 points, 15 rebounds and five assists. He joins Joakim Noah of the Chicago Bulls as the only centers since 2007 to reach all those thresholds in a game.
• Marcus Thornton scored 36 points and made a career-high eight 3-pointers. That's the most points by a player off the bench this season.