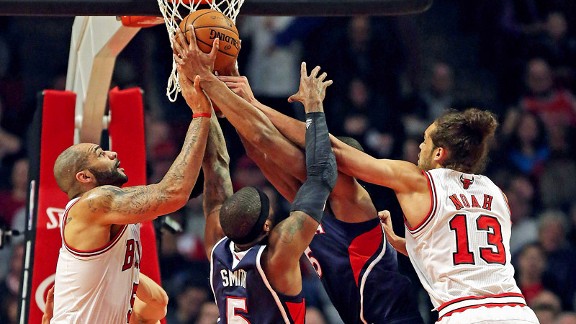 Jonathan Daniel/NBAE/Getty Images
The Bulls manage to crash the offensive glass without giving up much defensively.
NBA players make hundreds of split-second decisions each game, and one of the most-argued judgments occurs whenever a jump shot goes up. Should a player rush the glass and try grabbing the offensive rebound, or should he run back to defend the opponent's ensuing possession?
In a research paper called "To Crash or Not To Crash: A quantitative look at the relationship between offensive rebounding and transition defense in the NBA," MIT's Jenna Wiens, Guha Balakrishnan, Joel Brooks, John Guttag try to answer this ongoing question.
TrueHoop at MIT Sloan Sports Analytics Conference
Michael Pina: Using data from SportVu's camera tracking technology, "To Crash or Not Crash" identifies two juxtaposing basketball philosophies – should a team strategically "crash" the offensive glass in an effort to keep their possession alive, or "retreat" to set up their defense in an effort to limit opposing baskets in transition – but the paper didn't have enough information to arrive at a definitive conclusion.
Ryan DeGama: It felt like the opening of a dialogue rather than its final declarative words. Nothing wrong with that, of course. Without incomplete first steps, we'd still be measuring offensive achievement by points per game. (Although, as a Celtics fan, I'd probably feel better about the Antoine Walker years.) The authors concede the caveats associated with the study (limited data, personnel differences, varying game situations) but I wonder how sturdy their general conclusions – that the value of crashing the boards trumps the value of setting up a transition defense – will prove when they can more effectively assess specific rosters?
Pina: Totally agree. I loved the paper's motive, and in a few years -- once more data is gathered and the variables you mentioned are accounted for – we should find ourselves with more conclusive answers. But right now, more than ever before, it feels like the relationship between crashing the boards and retreating to defense is a big ball of confusion. This paper threw gasoline on the fire.
Just look at this: Three of the NBA's top four defensive teams (Bulls, Pacers and Grizzlies) also rank in the top five for offensive-rebounding percentage, per NBA.com/Stats. The other defensive team is the Spurs. And where does their offensive rebounding rank? Dead last. Yikes.
DeGama: There's an interesting bit of overlap between Chicago and Boston but it comes with wildly different results. Under Tom Thibodeau, Chicago has turned out the same kind of sexy defensive efficiencies his Boston teams did while he was working under Doc Rivers. Are we to believe Thibs has changed his perspective on offensive rebounding, that he never held the kind of antipathy toward it Rivers seems to, or are Chicago's offensive rebounding feats just a function of his roster?
Pina: I'd be more inclined to believe it's a function of having bears in the frontcourt. Taj Gibson, Carlos Boozer (contract be damned, the man can board), All-Star center Joakim Noah, and -- not this season, but in the past two -- Omer Asik are superior to Kevin Garnett and a couple hobbled co-stars. The Bulls crash the offensive glass and hold down one of the league's best defenses. If they could only score the ball, they'd have it all.
DeGama: I think the actionable insights in this area will come when we can account for those roster differences. Speaking of which, this November 2012 quote from Rivers makes it sound like the Celtics have rock-solid proprietary metrics that speak to their specific roster: "That is a number I rarely look at, offensive rebounds. Statistically, it holds up. I can tell you, you don't offensive rebound, you stop [the opponent's] transition, you win more games than when you get offensive rebounds. I can guarantee you that on those stats."
Pina: Saying this paper was "ahead of its time" wouldn't be entirely accurate, but it also wouldn't be far off from how I feel. We, as both Celtics and basketball fans, have always pondered just how influential an offense can be on its defense, and vice versa. And thanks to SportVu we're tantalizingly close to getting answers. Unfortunately for those who lack patience — me — we're nowhere near where we want to be. This paper can be seen as a wonderful flashlight though.
DeGama: Let's wrap this by making some half-informed declarations that will come back and bite us in the future. Here's the situation: You have to send a roster-agnostic team into a seven-game series for the NBA championship and instruct your players to either crash the boards or get back in transition. Based on what you know now – what do you tell them?
Pina: Great question. Maybe it's because I'm so frustrated from years of watching my favorite team get back on defense, as well they do it, but I'd prefer to crash the glass. Check back with me in three or four years, when more useful information can be ripped from a larger pool of data, and my answer might swing in the opposite direction.