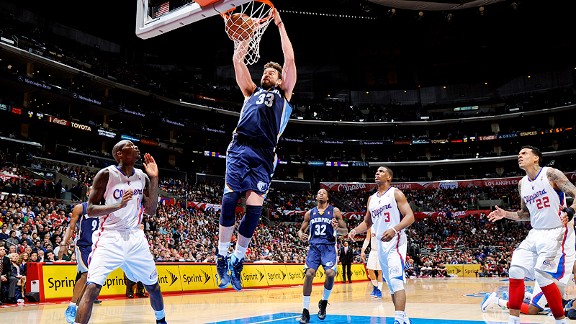 Andrew D. Bernstein/NBAE/Getty Images
This is the way the Memphis Grizzlies will win basketball games -- at close range.
LOS ANGELES -- On Feb. 6 in Atlanta, the Memphis Grizzlies hit rock bottom. The team was still smarting from the Rudy Gay trade and head coach Lionel Hollins was downright surly. The Grizzlies were not a basketball team in good spirits, as they sleepwalked through an ugly loss to the Atlanta Hawks.
Five weeks later, the Grizzlies have dropped exactly one game since -- a competitive road loss to the Miami Heat. The locker room at Staples Center before and after their 96-85 win over the Los Angeles Clippers was a perceptibly happier place. The Grizzlies had moved two games ahead of the Clippers in the loss column for the No. 3 seed in the Western Conference, and as guys hurried to dress for the 10:30 p.m. bus back to the hotel, the buzzword was chemistry -- uttered by no fewer than three players or coaches.
"I think what's happening now is that our chemistry has gotten to a level that everybody is just doing the extra thing for one another," Grizzlies point guard Mike Conley said. "We're not worried about ourselves as individuals."
From the top to the bottom of the organization, the Grizzlies are a team well aware of its limitations. The Griz recognize that they're a scrappy group -- Conley preferred "crafty" on Wednesday night -- that can defend the half court and pick up a few easy buckets by disrupting passing lanes. But they also know their lack of outside shooting makes it difficult to force opposing defenses into rotations and close-outs, which, in turn, makes scoring a chore for the Grizzlies.
As a result, the Grizzlies are in a perpetual state of problem-solving. In a league in which spread offenses dominate whiteboards and 3-point shooting has been almost universally recognized as the most efficient way to rack up points, Memphis has to find a different way. The Grizzlies have to use their size, make their imprint on the game with their defense, and then hope the offense can tread water with a peculiar assortment of putbacks, midrange jumpers and transition layups.
On Wednesday night at Staples Center, the Grizzlies' offense did more than tread water. It zipped across the court in a jet ski. In a game that featured only 83 possessions, unofficially, the Grizzlies ran up 96 points, good for a whopping 115.7 points per 100 possessions.
It started, as it often does, with Marc Gasol (21 points on 10-for-14 shooting from the field). With the help of Conley (17 points and 11 assists), Gasol found clean looks in the half court all night. Many of those were the result of simple, instinctive plays. In the third quarter, Gasol held the ball on the perimeter, handed it off to Conley as his point guard swept behind him. Gasol then dove toward the hole where Conley delivered a bounce pass en route. The result? A wide open 12-footer for Gasol on the left side.
When a team has skilled players like Gasol, it doesn't need much ingenuity -- just execution and smart plays that yield high-percentage stuff inside. Gasol's interplay with fellow big man Zach Randolph is nothing new, but as defenses sag against Memphis, finding space for Gasol can be problematic, but not on Wednesday. The Clippers had no answer for the Grizzlies' big men, as Gasol and Randolph ran a clinic on interior offense. Randolph finished with 13 points and eight rebounds, but commanded plenty of attention down low.
After the game, Gasol explained how much of Memphis' high-low game is the result of simple reads -- Randolph recognizing that Gasol drew the smaller "4" man as a defender and getting him the ball close to the basket, or possibly Gasol seeing Randolph duck in along the baseline behind the defense if Z-Bo's man steps out to cut off a drive. And both guys have to allow Conley to initiate.
"You just have to read space," Gasol said. "I give Mike an alley. If the big man stays on the ball, then I'm going to have the open shot. If Zach's man steps up to challenge, then that creates space for him to duck in."
It sounds elementary, but space on the offensive end comes at a premium for Memphis. It's not impossible to find, but the Grizzlies have to look harder than most teams. Relative newcomer Tayshaun Prince is helping matters, though most of his 18 points on Wednesday night came around the basket. He exploited mismatches, worked his favorite spot on the right block and converted a couple of misses with tip-ins.
"[Prince] got game," Randolph said. "See how he was stretching out tonight? That was Young Tay. Like he was 21."
Prince immediately deflected all praise to Gasol and Randolph.
"I have to give credits to my bigs," Prince said. "It's hard for [defenders] to come off those two big guys. So if a guy on a team has it rolling, we can keep going to that because we have two bigs that can create double-teams and [defenders] don't really want to come off them."
The Grizzlies aren't going to win a lot of games from long range, but if they can adopt Prince's fundamental understanding of the team's strength and exploit the interior space Gasol referred to, there's real possibility -- especially for a team whose second-ranked defense is ready for spring.