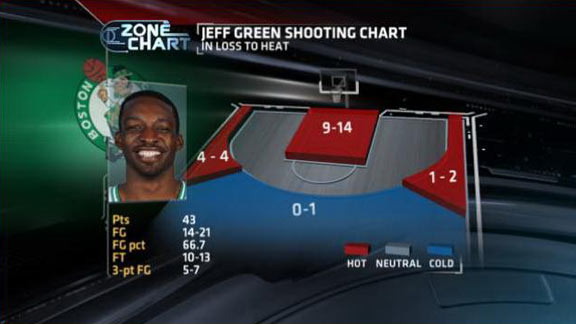 Jeff Green's great night was not enoughAnd so it continues.
The Miami Heat overcame their largest deficit during their 23-game winning streak to beat the Boston Celtics and overcame one of the most herculean performances ever against them in the process.
Let's run through some of the notes from the win, which gave them the second-longest winning streak in NBA history AND clinched the Southeast Division title.
LeBron
LeBron James had 37 points, 12 assists and seven rebounds, including the game-winning basket with just over 10 seconds remaining.
Upcoming Games for Heat
He's the first player to hit that combination in a road game against the Celtics since Scottie Pippen in 1995.
The 12 assists led to 27 points for the Heat. Add that to the 37 he scored and James' 64 points responsible for was his second-highest mark this season. He accounted for 77 points against the Sacramento Kings on February 26.
James scored on all three of his shot attempts in transition and two of his three that came on cuts to the basket. But the game winner came in an area in which he was just minimally effective for the first 47 minutes and 50 seconds—in a situation in which he was isolated one-on-one with his defender.
James went 4-for-9 on such shots during this game.
James, Dwyane Wade and Chris Bosh combined for 30 field goal attempts inside five feet and made 22 of them. Both the number of makes and shot attempts are the second-most by the trio in a game this season.
Green's best game
Jeff Green finished with 43 points, seven rebounds, four blocks, two steals, and two assists in defeat for the Celtics.
Over the past five seasons, only two other players have reached all of these levels in a game: Dwyane Wade (2009 against the Knicks) and LeBron James (2010 against the Nuggets).
And only one player has done the 43-7-4 combo against the Heat- Hakeem Olajuwon in 1989.
Green's 43 points are the second-most scored against the Heat by a player in a game over the last three seasons. The only player with more was Paul Millsap, who had 46 for the Utah Jazz in 2010.
One other note:
A player has scored at least 31 points against the Heat nine times this season.
That player's team is 0-9 in those games.