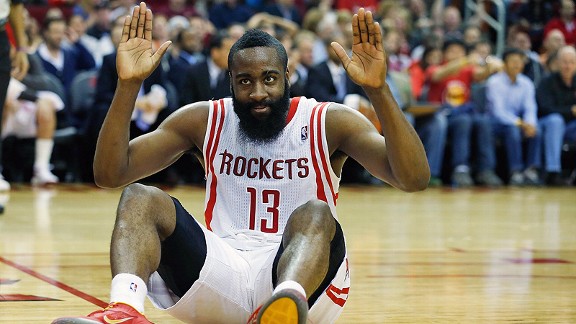 Scott Halleran/Getty Images
James Harden's shot got the Rockets the win, but the game could have gone very differently.
James Harden had just hit one of the prettier late-game shots of the season -- it turned out to be a game winner -- and the ball was in the Spurs' hands to see if they could match it.
Harden had taken a handoff from Omer Asik at the 3-point line. Asik threw a hip into Harden's man, Kawhi Leonard, leaving Harden to sprint toward the basket with only Tim Duncan between him and the paint. In the middle of 10 men, the game had become about two.
Or three. Because as Harden was running for the paint ... Asik was too. And fast. Duncan simply couldn't leave Houston's 7-footer all alone under the hoop with five seconds left, ready to turn a miss, or even a pass, into a game-winning dunk. Even as Harden rose to fire, Duncan fell back to put a body on Asik, putting his faith in a gaining Leonard to bother the shot.
Harden got the bucket, the highlight, and ... if the Rockets could muster 4.5 seconds of great defense, a rare win over the Spurs and a much-needed ounce of protection near the bottom of the West playoff standings.
The Spurs called timeout, and commentators did all they could -- they must make educated guesses about what's coming next. The local Houston team couldn't ignore one of the game's essential facts, namely that in the last six minutes the fourth, the Spurs' scoring had been as follows:
Tony Parker free throw.

Tony Parker free throw.

Tony Parker bucket.

Tony Parker free throw.

Tony Parker free throw.

Tony Parker bucket.

Tony Parker free throw.

Tony Parker free throw.
It's not like the Frenchman was hogging the ball, either. Over that span Leonard had missed a 3, Stephen Jackson a 2. Duncan and Danny Green each had shots blocked, and Duncan had another miss to boot.
"That's the guy," said Rockets commentator Clyde Drexler of Parker, as the Spurs took the huddle.
Drexler had just finished talking about stars like Harden, saying, "They come up with tough shots at the right time."
Parker was the guy. It was obvious.
Spurs coach Gregg Popovich drew up his play. Under Pop, the Spurs have long been not just one of the winningest teams in basketball, but in all of sports -- even though Popovich often does unconventional things.
Sure enough, Parker didn't touch the ball. Instead Duncan, who had missed his last three shots and last scored way back in the third quarter, caught the inbound pass.
Duncan missed. The Rockets won.
The previous Spurs possession had, somehow, gone even worse. Up one with seconds left in the game, the Spurs had worked the ball all over the place to find Leonard for a corner 3, of all things. This was a head-scratcher, to conventional thinking: Two points would have nearly guaranteed victory, and Leonard's only points of the second half had been roughly an hour earlier in real time, mere seconds after halftime.
This baby was a line drive that beat up the side of the backboard, and the Spurs' hopes.
Who knows what Popovich was thinking?
In fact, it's not that hard to know. It's the same thing every play, more or less. He's looking for shots that have proved to be efficient over the long haul. With emphasis on the long haul, as opposed to over the last few minutes of play.
Pop explains this again and again, but people tend not to be curious. It does sound more than a little cardboard.
Usually that means open shots. In practical terms, calling a play for an uncontested shot (from the guy the defense chose to leave open) is the opposite of calling the play most coaches would seek, for big-name players like Harden or Parker, who are never left open.
Drexler, and almost everyone who watches or plays basketball, assigns huge value to two things:
Who is shooting.

How they have been shooting in the last few minutes.
If Popovich cares about either, they're way down on his list.
Wide-open Leonard in the corner? In terms of points-per-possession it's almost as valuable a shot as the Spurs have in their arsenal. The Spurs have won games like that.
Duncan at the free throw line? If you must have a covered shot -- and in 4.5 seconds it's tough to find an open man -- this has been reliable for more than a decade.
Even shooting 3s while up one in close games is proven strategy, in a rigorous analysis of many seasons' worth of data.
The Spurs lost this one, and it might be tempting to use it as evidence that Pop's approach has holes.
But I'm reminded of something a very smart stat geek told me once: The more they dig into the data, the more they find that Popovich does almost everything the right way. The two-for-one, the substitutions, the play calling, his tactical errors are few and far between, which is a big part of why Spurs wins can be greeted with shrugs -- it's a team that operates with machine-like efficiency. That efficiency isn't despite unconventional play calls, though. It's because of them, which isn't really food for thought in San Antonio, but it might be for 29 other teams.
Why is Popovich so rare in getting these things so right?