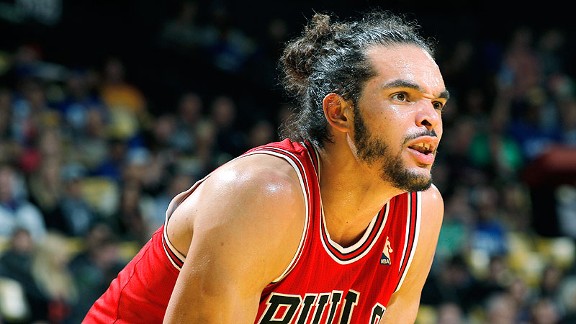 Rocky Widner/NBAE/Getty Images
Joakim Noah anchors the NBA's fifth-best defense, but it has been nothing like as effective lately.
You may have heard something about the Miami Heat's win streak, which has lasted since February 3.
As the Bulls prepare to face the Heat in Chicago tonight, there's another trend to consider: The Bulls' defense has fallen off a cliff.
Once among the league's very best (and still top five in the NBA on the season) over the period of the Heat's streak, the Bulls' defense has ranked just 20th in the NBA, worse than teams like the Minnesota Timberwolves.
Prior to February 3rd, the Bulls had the third ranked defense and gave up just 97.3 points per 100 possessions. Over the last eight weeks, they're giving up 104.9.
What's going on?
A look at the tape shows that Chicago is still protecting the paint and closing out to 3-point shooters with typical fervor. They aren't suddenly giving up tons more layups -- though they have slipped marginally in this area. They remain the best in the league at taking away the precious corner 3.
Fouls and free throws have been fairly constant.
The one area where Chicago's defense has dramatically changed is in defending the mid-range. Coach Tom Thibodeau's defense is designed to limit the most efficient shots (at the rim and from 3) while encouraging teams to shoot a ton of inefficient mid-range jumpers. Only the Pacers force opponents to take more long 2s.
Just as impressive, the Bulls have historically done a fantastic job of contesting these jumpers with long, aggressive defenders.
But since February 3rd, a heck of a lot more of those shots are falling, and it's making a big difference.
One reason is simple: in the last eight weeks, three of Chicago's best defenders have been battling injuries.
Taj Gibson missed 10 games with a sprained MCL.

Joakim Noah missed a few games in February and continues to play through debilitating plantar fasciitis in his right foot.

Kirk Hinrich, a long defender capable of clogging passing lanes and smothering pick-and-rolls, missed most of February with an elbow injury and most of March with a toe injury.

Tonight, Marco Bellinelli will be a game-time decision due to an abdominal strain.
Then there are questions of fatigue. Luol Deng leads the league in minutes per game, at a mighty 38.9. And these are hard minutes -- Deng is in constant motion on both ends of the court. Meanwhile, even battling injuries, Joakim Noah's playing more minutes per game than any other center, at 37.7.
Could fatigue also be dragging down the Bulls defense?
Thibodeau has been criticized for riding Noah and Deng, but he may feel he has no choice. After shedding contracts in the off-season, Chicago has less defensive depth than in previous years. Instead of Omer Asik and C.J. Watson, the players who replace Noah, Gibson and Hinrich are Nazr Mohammed and Nate Robinson.
After Derrick Rose's injury, the Bulls front office cut salary and assets in a series of moves that seemed to signal they were essentially punting this season. What was the point in paying guys like Kyle Korver and Omer Asik for a Rose-less team that couldn't compete with the Heat?
But the team's struggles this season suggest that prophesy of non-contention may have been self-fulfilling. They played well to begin the year even without Rose. With a bit more depth, to keep good players on the floor even in the face of injuries, and to keep the likes of Deng and Noah fresher, perhaps they could have maintained that defensive intensity all season.