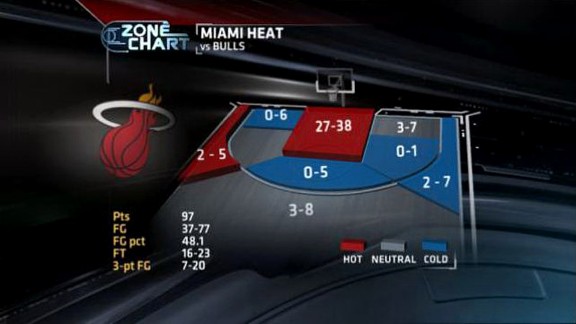 The Heat struggled from the field in the loss to the Bulls. What were the biggest statistical keys to the Chicago Bulls' snapping the Miami Heat's winning streak at 27 games?
Here's a quick look:
1. The Bulls allowed the Heat to get inside the paint but didn't allow the Heat's shooters to make easy baskets. The Heat went 10-of-39 outside the paint (25.6 percent), their second-worst such shooting rate of the season (they were 6-for-35, 17 percent against the Lakers on January 17).
Heat Streaks
Snapped on Wednesday
The Bulls had similar success against the Heat earlier in the season. On Jan. 4, the Heat converted on 77.3 percent of field goals inside the paint but struggled on shots outside, hitting only 30 percent.
In the Heat's victory over the Bulls, the Heat had a more balanced scoring attack, shooting 59 percent inside the paint and 44 percent outside it.
2. The Heat dominated the fourth quarter during their 27-game win streak, outscoring opponents by a combined 152 points and shooting 44 percent on 3-pointers.
In the loss to the Bulls, they shot 1-for-8 on 3-point attempts and were outrebounded by 12.
3. Despite scoring 32 points Wednesday against the Bulls, LeBron James was held to three assists, tied for his third fewest this season. James drove to the basket 12 times in half-court sets, but created only one field goal attempt (and no baskets) for a teammate off those drives.
Three other notes to remember from the end of "The Streak"
1. The 27-game winning streak is not just the second-longest in NBA history, but the second-longest in major North American pro sports (one better than the 1916 New York Giants baseball team).
Heat Streak By the Numbers
2. The Elias Sports Bureau tells us that this is the second time a Bulls team has snapped a rival's winning streak of at least 20 games.
The other instance was in the 1970-71 season against the Milwaukee Bucks.
3. The Bulls are one of three teams in the NBA with a winning record against the Heat this season (2-1), along with the New York Knicks and Indiana Pacers.