A new NBA season is like a big wrapped present.
And now this NBA season is partially unwrapped.
Between all of us reading this right now, I suspect we have watched every single game of the season so far.
Not many people can say that.
So what I'd like to know is: Who's playing well?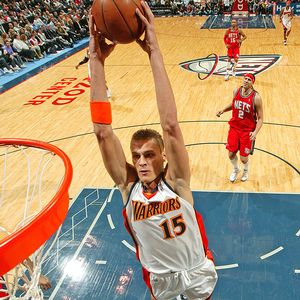 I'm not talking about the LeBron James/Kobe Bryant crowd. I'm talking about a player on your team who has been a mixed bag in the past, perhaps, but seems to have turned over a new leaf this season. Someone who is just starting -- because of off-season time in the gym, a trade, some new coaching philosophy, or something -- to enter studhood.
Who, in your mind, is starting to make a name for themselves right now?
I'll throw out a name: Golden State's Andris Biedrins.
When I tuned in to the Bay Area-based broadcast the other night, they set up the Blazers vs. Warriors as a clash between two up-and-coming stars. First they showed us some razzle dazzle video about Brandon Roy. And as I watched that, I couldn't help but wonder: Who is the up-and-coming star on the Warriors, when Monta Ellis is out? Are they about to tell me this is seven-year veteran Corey Maggette's time to shine?
Then they showed us Biedrins, and my immediate reaction was: Andris Biedrins? The guy who helped to kill my fantasy league team last year? It's slim picking for stars in Golden State, huh?
But check out what this guy has been doing. He leads the league in rebounding at 14+ a night, and has been scoring nearly 17 a game. Now, granted, both numbers are inflated by Golden State's ridiculous pace, but they're great numbers anyway, especially when you consider 54% of the shots he has taken this season have gone in. Last season he had his best PER ever at just over 19. (An average NBA player is 15.) At the moment, Biedrins is at 22.54, fifth among all NBA centers.
So, there's one name I'll throw out there. But who else has been impressive in the early going? Who should we all be watching?
(Photo by Jesse D. Garrabrant/NBAE via Getty Images)