If there's a memo to NBA head coaches from the last few days, it's certainly this: Do NOT lose to the New York Knicks.
That seems to have sealed the fate of Eddie Jordan, who is, surprisingly, no longer a Wizard.
Is Anyone Better Available?
Interim coach Ed Tapscott is respected, but I don't think anybody thinks he'll be the long-term coaching solution -- mainly because word is that his aspirations are in the front office, where he has spent most of his career.
So at some point the Wizards will be interviewing, and look at the list of head coaching free agents. Sam Amick of the Sacramento Bee puts the list at Flip Saunders, Avery Johnson, Doug Collins, Mark Jackson, Mike Fratello, Jeff Van Gundy, and a number of people with current assistant jobs.
Pretend you owned an NBA team. You could make a strong case for any of those guys, but wouldn't Eddie Jordan be at the top of this list for you?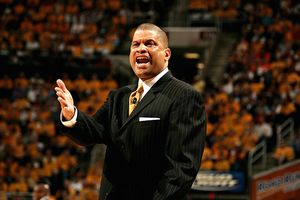 Not to mention, Jordan -- who took over a bad Wizards team, and coached them to 26 playoff games -- got consideration for Coach of the Year just last season. Few Washington D.C. coaches in any sport have done better over the last decade. And all kinds of players, from Caron Butler and Antawn Jamison to Brendan Haywood and Larry Hughes, have played better under Jordan than they ever did for anyone else.
On Eddie Jordan's watch, the Wizards started to matter again.
He's a Leader
I should not proceed without telling you that I am wholly biased in favor of Eddie Jordan, after seeing him speak in person just once, back when he was known as the Nets assistant who introduced that clever Princeton-style offense.
Thanks to Hoop magazine, I weasled my way into several closed sessions of the Rookie Transition Program in 2002. All kinds of people spoke, from Bill Russell to Kenny Smith. But nobody was half as powerful, memorable, or on point as Eddie Jordan. He has unusual eyes. They're kind of delicate, but also, I learned that day, fiery at times. He can joke around with the best of them, but this day was about being a professional, and he delivered in a voice that came from somewhere down around his ankles. His instructions were succinct, and one of them -- he essentially told the players not to get injured -- was wholly impossible. (The irony being, of course, that if Gilbert Arenas and Brendan Haywood had figured out how to heed this advice, Jordan would still have a job.)
I'm certain that if you posted his ten or so points on the inside of your locker, and made it your business to follow them, you could be a very good NBA player. It was terrible, in a way, not to be an NBA player after his talk, just because I wanted so badly to put his excellent advice to good use. Anyway, I came away from that day convinced that if smarts, toughness, leadership, and eloquence can get you far as an NBA coach, then Eddie Jordan would go far.
Tim Lemke of the Washington Times quotes Jordan talking in similar ways a couple of days ago:
"Not in our wildest dreams did we ever think we would be 1-10, and now how do you handle that?" Jordan said Saturday night. "I wish I could give them a manual on how you stay poised, how you suck it up, how you stay positive. I can't find a manual like that yet.

"But again, I reiterated, we don't have losing habits. And that's a big thing for us. You respect the game. You play hard. You help your teammate. You protect your teammate. You play with confidence. You understand what the coaches are telling you, try to follow directions. We have all that. We just haven't won."
Organized thoughts, eyes on the prize, and a message delivered clearly and with compassion. When the cards are stacked against you like they are against the Wizards right now, to me that's the kind of leadership you want.
On the other hand, the ultimate measure of coaching success is what happens on the court, and this season -- there's no arguing the point -- the Wizards have been terrible, and in the NBA the players are much harder to get rid of than the coach. So, as we all know, teams with terrible records tend to fire coaches whether it makes sense or not.
It's hardly worth questioning. But will the firing put the Wizards on a better long-term trajectory than they were on before? I sincerely doubt it.
UPDATE: Michael Grange of the Globe and Mail writes:
Over the past three seasons Jordan has a 45-26 record when he's had Gilbert Arenas, Antawn Jamison, Caron Butler and Brendan Haywoood in the lineup. Throw out last season when Gilbert limped through eight games with that crew and the Wizards were 3-5, and the percentage was even better. I don't think anyone thinks that a lineup of Gilbert, Caron, Antawn, Haywood and Deshawn Stephenson, healthy and intact for 80 games wouldn't be a serious factor in the East. But they're not and may never will be, the way Arenas's knee is going. And after three years of battling through adversity brought on by injury the Wizards just seem to have got a bit tired of running uphill. It happens. It does not make Jordan a bad coach.