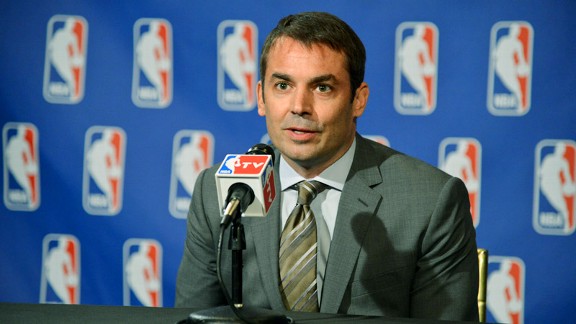 Jesse D. Garrabrant/NBAE/Getty Images
Chris Hansen aims to heal Seattle fans' broken hearts by breaking more in Sacramento.
Let's agree: Seattle got screwed.
That the Sonics left, in 2008, was the big thing. Another thing was how it happened: Lies, emails, subterfuge, a three-way game of hardball between the local government, the team owners and the league. It all left a bad taste in the mouth, and clear victims: SuperSonics fans.
It can be a terribly powerless thing to be both emotionally invested in an NBA team, and not a billionaire.
Here's my question, though, and it's an honest one: Could it really have gone better? Is there a good way to steal a team and move it from one city to another? Or is that just kind of how the sausage gets made?
This matters now, of course, because Seattle is in the thick of it, hoping it'll soon be backing up moving trucks to the loading docks in Sacramento, Calif., where another passionate fan base has hearts in throats.
It is not a crime to want an NBA team. Who can second-guess Oklahoma City, Sacramento or Seattle for that?
Are there things that are off-limits, however, in how you get one?
Seattle has led the league for five years on the issue of "that's not how you treat loyal fans."
So, Seattle, how do you treat loyal fans?
King County executive Dow Constantine was part of Seattle's delegation to NBA meetings on Wednesday, and he says he's proud the Seattle bid has been handled without misdirection:
[Would-be owner] Chris Hansen has approached this entire thing in a very straightforward, honest way.

He has come in saying I want to purchase a team in order to relocate it to Seattle. He has made clear that he doesn't want to do anything over the line to hinder Sacramento's efforts to present a strong, bona fide proposal.

He wants our deal, our proposal to succeed on its merits. He's made sure he has done what he can to have it have a lot of merit: on the financials; he has done all the political work; acquired the property; dealt with the myriad leases on this property that he has assembled. Just been doing the workmanlike job of putting it together, piece by piece.

I feel really good about this ownership group. From the Nordstroms to Steve Ballmer to Wally Walker. We've got people who know the game, who know the finances, and are public figures who care about the broader community and about their own reputations.

They want to make sure they do things right. It's reassuring.
Is there room, in that process, to think about Kings fans?
Chris Hansen has made it clear that if he buys the team he intends to move it to Seattle. The fact is that the Kings have moved around a lot during their history. The Sonics were Seattle's first pro team in the modern era and its first love. Losing the Sonics was a pretty major blow for the psyche of the city and the region. Ever since Chris first surfaced and said I want to put together a deal to bring basketball back you've seen the enthusiasm. And it's deep-seated. This is not some passing fancy. These are people who care deeply about basketball, and particularly about their Sonics. By the thousands.

I do of course feel for any fans who face the prospect of losing their team. We have a great basketball town. A great economy and demography for basketball.

And we want to see basketball back in Seattle.
Hansen, the reputed champion of this distinctively straightforward approach, was cagey when asked about right and wrong ways of getting an NBA team.
One possible reason: Clay Bennett, the very NBA owner who sneakily arranged the Sonics' departure, heads the NBA's relocation committee and is key to the NBA's decision-making. There'd be little strategic value in trashing Bennett's approach, or even talking about it.
"You don't get anywhere in life," Hansen explained, "looking backwards and dwelling on things that have gone wrong. And maybe the counter to that is that sometimes you have to lose something that you really hold precious and dear to really realize how much it means to you."
He's right, of course, but the reality remains harsh. For fans in Sacramento, if Hansen has his way, "looking back" will soon be the only way to enjoy NBA hoops. It's a bummer.
But at least it's honest.