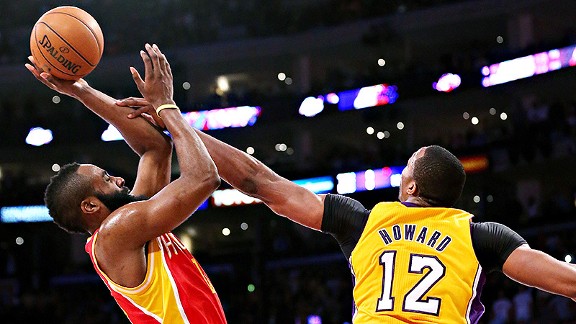 Stephen Dunn/NBAE/Getty Images
The Lakers and Rockets played one of Wednesday night's few meaningful games.
LOS ANGELES -- Give the Los Angeles Lakers and Houston Rockets their due, the two teams played a frenetic, de facto playoff game. The Rockets ran the floor with abandon, fanning out in transition like birds in flight, and injecting the game with even more chaos than normal. The Lakers played a gutty game despite shooting the ball terribly. Whatever the Lakers lacked in proficiency, Pau Gasol made up for in moxie -- 17 points, 20 rebounds, 11 dimes. Dwight Howard's presence underneath neutered the Rockets' drive-and-kick game, as the Lakers prevailed 99-95 in overtime.
All 30 NBA teams were in action on Wednesday night, but "in action" is a term of art in April. The roster of notables who sat out the final night of the regular season: LeBron James, Kevin Durant, Carmelo Anthony, Chris Bosh, David West, Paul George, Kevin Garnett, J.R. Smith, Roy Hibbert, Jason Terry, Jason Kidd, Al Horford, Tyson Chandler, Josh Smith, Nicolas Batum, Jeff Teague, Kyle Korver, Wesley Matthews and Goran Dragic. That doesn't include players such as Kobe Bryant, Kenneth Faried and Danilo Gallinari, each of whom suffered late-season injuries, nor Tim Duncan and Tony Parker, who left a very tight game in the third quarter, never to return.
Apart from the Lakers-Rockets buzzfest, the Utah Jazz played a sudden-death game at Memphis, while the Los Angeles Clippers and Sacramento Kings clashed in a competitive game at Sleep Train Arena. Beyond that, it was formalities.
A few of these absences have been chalked up to injuries of unknown severity, but most of the names on the list are game-ready. Wednesday night was the most egregious example of NBA truancy, but this isn't a recent development. For the better part of the past few weeks, teams comfortable with their playoff seedings as well as many of those who can improve draft position by tanking have been holding key players out of games.
NBA coaches and organizations aren't the culprits here. They've been charged with very clear objectives -- win meaningful games, mitigate risk in meaningless ones and build the franchise with young talent. In turn, they make the personnel decisions that help achieve these goals. Injuries are a too-common occurrence in the NBA. There's also plenty of evidence to suggest that players who log heavy minutes are less likely to win in June. For teams outside the playoff race, a dreadful April can catapult them up the draft board.
All that being the case, what possible motivation does an NBA team have for exposing their best players to exhaustion or injury? For a team locked into a playoff position, the best strategy is to hermetically seal stars in bubble wrap until the games matter again.
We can't incentivize certain behavior, then be irritated when people act on those motivations. So how do we deter the rash of DNPs we see every April, when the NBA schedule is three parts filler to one part substance?
There's simply no fool-proof way to wipe out ShamBall entirely from the latter portions of the NBA schedule, but there are some smart measures to consider:
Shorten the season: Two points here: (1) Each game shaved off the schedule increases the probability that the race for seeding will be more competitive. As a rule, a greater number of games means greater distance between teams in the standings. Most years, a 44-, 58- or 72-game season would likely create a jumble, and jumbles are good for competition. While there would certainly be seasons when a top seed (or any other seed) could be locked up early, it's simply tougher to do with fewer games. (2) There's a reason these guys are resting, they're exhausted and banged up. Fewer games mean fewer minutes, which would diminish the need for rest or healing.

Stop giving teams a reason to tank: The current lottery system rewards failure, plain and simple. So long as that's the case, the bottom-feeders -- many of whom are no joy to watch even when they're trying -- are thinking about probabilities that improve with each loss. There are several ways to go here, ranging from the elimination of the lottery (or the draft, but I'm dreaming) to a lottery that includes all 30 teams. It could be unweighted, or even calibrated to reward success after a team has been mathematically eliminated from the playoff picture.

Give the Bill Simmons Plan a go: "[S]tage a weeklong, single-elimination, 16-team tournament between the nonplayoff teams for the 8-seeds. (No conferences, just No. 15 through No. 30 seeded in order.) The higher seeds would host the first two rounds (eight games in all) from Sunday through Wednesday; the last two rounds (The Final FourGotten) would rotate every year in New York or Los Angeles on Friday night and Sunday afternoon, becoming something of a Fun Sports Weekend along the lines of All-Star Weekend. Friday night's winners would clinch playoff berths. Sunday's winner gets two carrots: the chance to pick their playoff conference (you can go East or West), as well as the No. 10 pick in the upcoming draft (that's a supplemental pick; they'd get their own first-rounder as well)."
April should be the climax of the NBA's regular season, a time when the game's most outstanding players are showcasing their skills as an appetizer for the postseason. That's hard to do when stars are in suits.