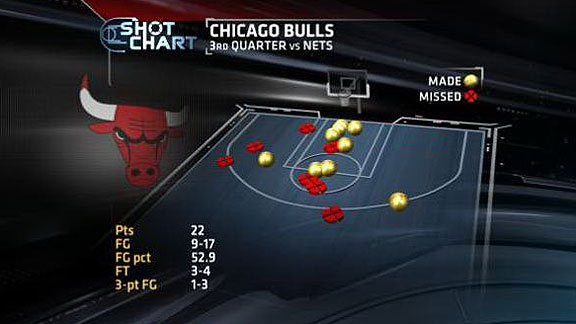 The Bulls shot the ball well in the third quarter ...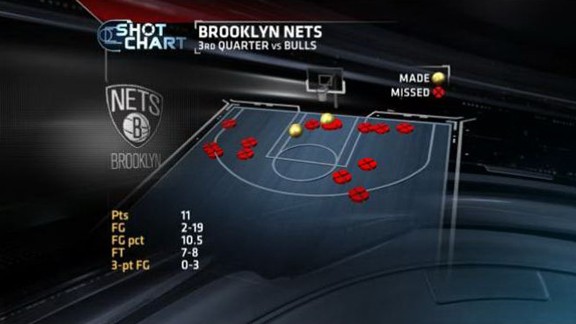 But the bigger story was how mightily the Nets struggled against the Bulls defense.
The story of Game 2 of the Brooklyn Nets-Chicago Bulls series can be told in a pair of shot charts (which you can see above) and a very simple graphic noted in the chart on the right.
The Nets dominated inside in Game 1 of the series, but could do little against Joakim Noah and company in Game 2.
Bulls Defense In Paint This Series
This was particularly true in the third quarter when the Bulls outscored the Nets in the paint, 10-4, and held Brooklyn to the 2-for-19 shooting from the field. We've put the spotlight on that with the images above.
Noah's impact was much more pronounced in Game 2.
With Noah on the floor in Game 1, the Nets made 7-of-10 shots in the paint and were 6-for-8 from within 5 feet.
In Game 2, the Nets shot just 8-for-21 in the paint including just 7-for-15 from within 5 feet.
Difference Maker: Kirk Hinrich
Noah will get a lot of attention for his defensive work in Game 2, but Kirk Hinrich played a very significant role as well, holding Deron Williams to 1-for-9 shooting.
The Bulls outscored the Nets by 10 points with Hinrich on the floor in Game 2. They were outscored by 19 with him on the court in Game 1.
Value of a win
And just how important was Game 2 for the Bulls?
Teams that go down 2-0 in a best-of-7 series win the series just six percent of the time (15-233 all-time).