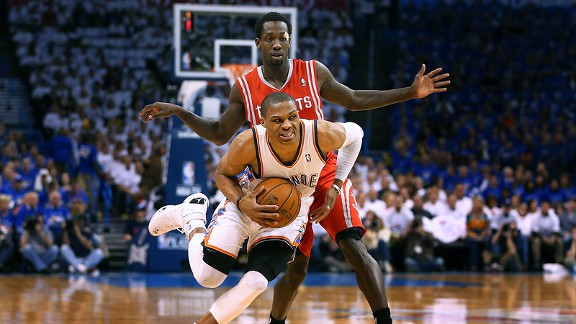 Christian Petersen/Getty Images
The West's top team will play without point guard after Russell Westbrook for the first time.
The Thunder have announced that Russell Westbrook will undergo surgery to repair a torn meniscus after an injury in the second quarter of Game 2. At this time it's not known how long he'll be out.
How will the Thunder be different without Westbrook, who has literally never missed a game? ESPN Insider David Thorpe has watched the Thunder closely all year and offers the following thoughts:
1. Especially tough for this offense to adjust
The worst thing about this is that they have built a wheel around two spokes: Kevin Durant and Russell Westbrook. This is not Miami or San Antonio, or Utah with its flex offense of recent years. The Thunder offense is a series of isolations for the two main guys, with other actions sprinkled in here or there. That makes this, seemingly, as good a challenge as you can have. They have never worked on scoring without Westbrook because they have never had to.
Gregg Popovich takes long minutes of the regular season to mix in bench guys to prep for whatever might happen. The Thunder could have done that. They had all season to prepare the bench for these kinds of things. They didn't do that. They were never forced to do that, and they never chose to do that.
2. Reggie Jackson's opportunity
Reggie Jackson is a dynamic one-on-one scorer. He'll get the lion's share of the minutes that would have gone to Westbrook. He's not the same player. He plays much more below the rim, but for an occasional dunk. But he can get a lot of good things done.
What he doesn't have is Westbrook's spirit or fight. That's something the team will really miss.
Westbrook's demeanor is so incredibly valuable. At times he is the worst decision-maker in the NBA. It's like World B. Free sometimes. But he makes up for that with incredible attitude, drive and commitment. The Thunder aren't going to have that from the point guard position.
3. Not about the defense
Westbrook is an athletic playmaker on defense. He's not a great defensive player, but he contributes on a lot of plays.
4. Kevin Martin can do more
Kevin Martin has been a dynamic scorer in the past. Even this year, when much less has been asked of him, he has formed one of the NBA's most efficient duos with Nick Collison. They are literally one of the most effective combinations of players in the NBA. Martin can certainly handle more of the scoring load against the Rockets, who are one of the worst defensive teams in the playoffs.
5. Rockets not the problem
Without Westbrook the Rockets are certainly good enough to win two out of five against the Rockets. It's going to get more difficult after that against the Grizzlies or Clippers. But on the Rockets only Omer Asik is a problem. Nobody else on the Rockets causes a lot of problems when the Thunder are trying to score.
6. OK without Westbrook in short stints
There are some lineups without Westbrook that did well this season. (A search of NBA.com/stats shows, for instance, that Martin, Jackson, Derek Fisher, Kevin Durant and Nick Collison have been effective.) This team is better built than, say the Bulls, to win without their point guard in the postseason. The Bulls lost their best player, but the Thunder lost their second-best player, and have several more talented players left.
Kevin Durant it one of the best scorers in the history of the world. Kevin Martin is among the highest ranked in the league in points per possession and points per touch. Jackson has good numbers too. This is not like subbing in C.J. Watson.
7. Whole bunch of Durant?
It may be that Kevin Durant shoots a million times without Westbrook on the court. This will be a gigantic test of Scott Brooks. Tom Thibodeau certainly responded to Rose's absence by getting his guys to play very hard and together. That's the challenge for Scott.
How will the team take this news? I don't think they'll take it lightly.
The media will bring up the Harden trade again and again. That's a challenge to the players on the roster now.
Let me tell you nobody is rejoicing over there. But with the quality of players on that roster, guys like Serge Ibaka, Nick Collison, Kevin Martin and Reggie Jackson are thinking "I know I can step up and do more."
They're not going to be sleepwalking. I think they'll be ready and will win Game 3. The question is how they adjust to the idea over time, in Game 4 or Game 5. Are they thinking they need to hold on while Westbrook is gone for a while, or are they thinking he's gone for good? The latter idea is a much harder one to adjust to.