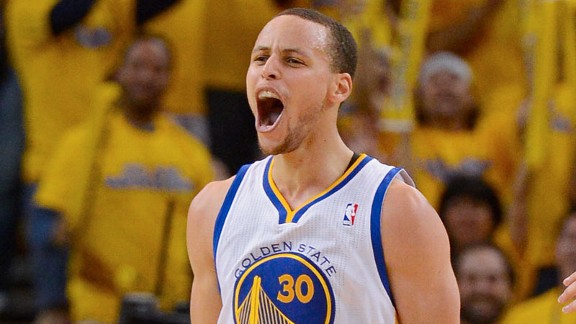 John Leyba/The Denver Post/Getty Images
Steph Curry, says David Thorpe, "didn't just go a little bit crazy scoring in the third quarter."David Thorpe has been watching the Warriors versus Nuggets series closely and has an array of observations and thoughts. He shared them by phone, and they are transcribed (and lightly edited for length) here:
Mark Jackson is incredibly inspiring
Mark Jackson has been absolutely tremendous. Everyone always wants to talk about X's and O's, but I believe the coaching game is half emotional. And on that stuff, he's scoring a 10 out of 10. They show those clips of Jackson during timeouts and he's inspiring Every. Single. Time.
Think about LeBron James and how he has grown as a player. It's not really about strategy, compared to a few years ago. It's about mentality. His biggest adjustment has been concentration and attention to detail. He has always had that quickness and size advantage. Now he punishes you with those every time you make a mistake guarding him. Now he's more balanced on his jumper and holds his follow-through. All things he has always known but that now he values more.
Denver is getting outplayed in those aspects. The Warriors are playing for their lives, and the coaching has a ton to do with it.
Jackson has been like the corner man in a heavyweight bout. Respect your opponent, but realize we're better. He's using action words, words with violence, but in a good way. He's got charisma. And look at his players' faces and you can see they absolutely believe.
Who would have guessed two weeks ago that in a Denver versus Golden State series, Golden State would have far more energy?
To my eyes, the Warriors were exhausted in Game 2. But they blew out the Nuggets anyway.
Stephen Curry walking the path
Coach Jackson has been saying amazing, uplifting, inspiring things about Steph Curry. And Curry has been "walking the path" as one of the best guards in the playoffs. Thirty-footers are within his range, and right now he absolutely believes he's going to make it.
If you were the Clippers, and right now you could pick any guard to lead your team for the next series, would you pick Chris Paul or Curry? We could argue all day about this for another series, or for next year. But for right now, I'd argue you'd be better off with Steph. Shooting is just so valuable, and Curry is playing like a top-five NBA player. (This also makes me think about that video we made about Trey Burke. Six-footers who can shoot the lights out are to be drafted quickly!)
George Karl is not inspiring
Everything's so different now. You know how many games Kosta Koufos started in the regular season? Eighty-one! You know how many he has started in this series? TWO! (He has played 64 total minutes in the four games of the series.) Evan Fournier was out of the rotation almost all year and is now starting. They've been moving the ball as well as any team all year and now the point guards, Ty Lawson and Andre Miller, both think they have to score to save the team (Ed. note: Miller's assists are down from 8.1 per 36 minutes in the regular season to 5.3. Lawson's are up a hair, from 7.2 to 7.5). This is also a strange time to see what Koufos and JaVale McGee can do together.
I recognize that injuries to Danilo Gallinari and Kenneth Faried mean changes. But this is beyond what was necessary, and it seems to have had an unsettling effect on the team. They were once a breathtaking team in transition.
They are not what they have been.
The Nuggets have not come out with confidence, and they often look confused.
They keep forgetting to guard the top 3-point shooter in the league!
Kenneth Faried is not himself
Faried can't move. He looks like he's running in quicksand. I've long thought he might be the quickest power forward in the league. Now he looks like an older version of Spencer Hawes. He's Brad Miller, basically.
For the Nuggets to be the Nuggets, the team that reeled off 15 impressive wins in a row in the regular season, they have got to have the Manimal. Without David Lee in this series, the Nuggets should own the offensive glass. But Faried can't move. He's such a key to cleaning up all those misses on offense. This just isn't the same guy.
You probably heard about Faried kicking a hole in the locker room wall? I feel like I understand that. That's the dejection of incredible frustration related to his injury. In college, I was taught about how stroke victims get counseling to deal with the incredible anguish and frustration that comes with new limitations, and having to think about things you never had to think about before.
Faried has never had to think about beating people to loose balls. That just came naturally. But not now.
Defensive mistakes
The difference between how the Bulls have adjusted to injuries and the Nuggets is stark. Every Bull knows where to go at all times on defense, no matter who's in the game. They have been perfecting that for years. The Nuggets often seem not to know where to go.
In particular, Denver seems to be reacting to the passed ball, instead of anticipating where the play will be and heading there earlier. When in doubt, they should be running toward Curry. He's the best shooter in the world!
Warriors getting the most out of players
You could make the case halfway through this season that, on offense at least, Draymond Green was really not an NBA-quality player. He is literally playing for his basketball life.
And it looks like it. He is locked in to the idea of stopping the Nuggets at the point of attack. He's not just saying to himself that they're not going to score. He's saying they're not even going to get close. He is not the fastest guy on the floor, but he's so aggressive nobody can do anything against him anyway. Andre Miller scored a game winner against him, and it's almost like ever since then Draymond has said, "OK, that's not happening again."
Andrew Bogut has been a huge, huge, huge story. His energy and defensive presence have defined the interior play for the entire series. And on offense, well, in Game 4 he managed to score six field goals in 26 minutes. The Nuggets' big men, Koufos and McGee, managed just one bucket between them in more than 28 minutes.
Jarrett Jack's quickness makes a big difference, too. Denver is steering driving players toward the help. But Jack is so fast that he's just blowing right by them at full speed -- they're doing nothing to slow him down -- and then he loves to shoot a floater before the help can bother him. Against a lot of players, it's a good defensive approach to encourage the floater. But Jack loves it.