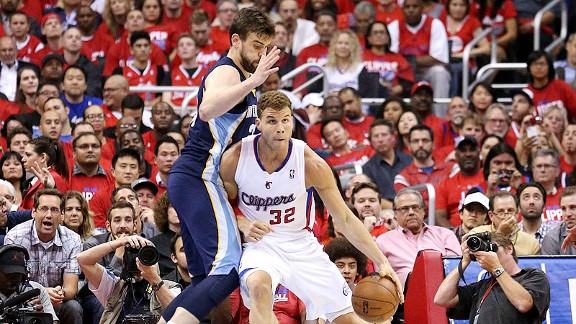 Stephen Dunn/NBAE/Getty Images
The Clippers will be pushed to the brink without a healthy and effective Blake Griffin.
The void
Los Angeles Clippers forward Blake Griffin didn't practice Thursday and spent a good portion of the day receiving treatment on his right ankle, which he sprained severely Monday, one day before the Clippers' Game 5 loss in Los Angeles. If Griffin can't go in Game 6, or is largely ineffective as a post presence on the offensive end, the Clippers have big issues. They're not a team -- like San Antonio, for instance -- that runs an airtight system fueled by interchangeable parts. Tim Duncan and Tony Parker are indispensable to their team's success, but the Spurs can subsist for long stretches without them because the offensive objectives don't change with their absences.
The Clippers need Griffin down low, where he draws defenders and forces rotations, and in the pick-and-roll with Chris Paul, which forces the Memphis Grizzlies' big guys to account for him, Chris Paul and the space around them.
The contingency
How can the Clippers absorb Griffin's absence? On Thursday, Clippers coach Vinny Del Negro said that if Griffin isn't available, veteran multitasker Lamar Odom would start at power forward for the Clippers. Odom's presence on the floor with the starters would give the Clippers yet another versatile ball handler and a crafty -- if occasionally freelancing -- team defender. But a better bet might be to go small and hand the lion's share of the minutes at power forward to Matt Barnes. That would enable them to replicate the successful formula of the bench and open up the game. The Grizzlies like chaos, but their very particular controlled brand of chaos, not the outright disorder a small-ball Clippers unit would bring.
This scheme wouldn't be without serious challenges for the Clippers. They'd probably have to send quick double-teams from the top of the floor to help Barnes on Zach Randolph, something they did fairly effectively in spots during last season's epic Game 7. And Paul has always preferred a more controlled approach to half-court offense. But the Clippers will need to move this game from paint to the perimeter, and Barnes at the 4 for significant periods certainly would do that.
The juggernaut
Not exactly a label we normally affix to the Grizzlies' offense, but racking up 114.4 points per 100 possessions against the Clippers in Game 5 definitely clears the bar for locomotive status. The Grizzlies have done a masterful job of moving Marc Gasol and Randolph around the half court, and by doing so, they've been able to cross up Griffin, DeAndre Jordan and the bench bigs.
This isn't stuff we haven't seen from the Grizzlies before: pin-downs by Gasol for Randolph, or vice versa. Pick-and-roll-and-replace with Mike Conley and both Gasol and Randolph. The Clippers aren't a bad defensive team (ranked ninth this season in defensive efficiency), but Memphis' execution on these sets has been crisp, timely and deceptive. As capable as the Clippers are at defending initial actions, if a defense throws multiple-choice questions at them, things have a way of breaking down. That's what we've seen over the past 3½ games from Memphis, and the trend line keeps improving.
The Q
When the Clippers have grasped for answers after the first quarter, they've frequently tapped a three-guard lineup composed of Paul, Eric Bledsoe and Jamal Crawford. Not a terrible idea in theory, but Memphis coach Lionel Hollins has countered that combination with Conley, Tony Allen and reserve Quincy Pondexter.
Memphis has been winning this battle. Allen smothers Crawford, who has shot 43.8 percent during the Clippers' three losses (only 3-for-11 beyond the arc), and many of those attempts have been with a Crawfordian degree of difficulty. Meanwhile, Pondexter's size and brawn have bothered Paul. The Clippers point guard tallied 35 points in Game 5 but hasn't distributed the ball (only 14 assists combined over the three losses). Offensively, Pondexter has given the Grizz some needed stretch, which has been just enough to complicate the Clippers' rotations and give Gasol the room he needs to work. Bledsoe pesters Conley, but the Grizzlies have adjusted, running the offense through Gasol at the elbow or having Tayshaun Prince initiate possessions with Conley off the ball.
Playoff teams need X factors, players who outperform their baseline production. Pondexter has been that difference-maker in this series, and it's helped Memphis inordinately.
The consequences
For Memphis, closing out the Clippers on Friday night by winning the series' final four games would be a resounding success after a sometimes tumultuous season. Dealing Rudy Gay created a lightning rod in Memphis and a period of discontent between Hollins and management. Randolph voiced his objections to some of the new wrinkles in the offense introduced after Gay's departure and struggled after injuring his ankle in March, which was a major cause for concern. More than all that, though, revenge is a dish that's best served cold (and in Memphis, it's also served deep-fried with a heavy sauce), and we'll see a fully catered event in the Grizzlies' locker room on Friday night if they can close out the series.
On the Clippers' side, a loss would be devastating. A 56-win team that looked like a serious contender for much of the season and as recently as 10 days ago would return to Los Angeles with some fateful questions: Paul's free agency, doubts about roster composition, questions about managerial structure, unhappy ownership and Del Negro's future.
Summers in Los Angeles are generally temperate, but if the Clippers bow out in Round 1, there will be a high-pressure system hanging over the Clippers offices and training facility in Playa Vista, Calif.