Man oh man, I was spoiled, growing up watching games in Portland's Memorial Coliseum. When the team started to get good, every fan seemed to believe they would win every home game. It was just always believable that the team of Clyde Drexler, Terry Porter, Buck Williams, Jerome Kersey, Kevin Duckworth and the like would somehow pull it out.
Which meant that there were a lot of times when the other team would make a big run, and things were starting to look bleak -- and the fans would stand up and deliver a rousing ovation.
No kidding.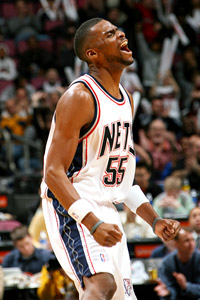 I can especially remember it out of timeouts. Rick Adelman would call a timeout to stop the run, and coming back out on the court, the fans would stand up clapping, and lift up the players. Give them a big emotional shot in the arm, saying, essentially, we believe in you.
Now granted, I'm a guy who can barely remember what I had for lunch today, let alone things that happened decades ago. But it sure seemed like when they got that kind of treatment from the fans, the team frequently responded with a victory. (And those teams had great home records.)
Can't remember seeing that in any arena in a long time.
By college, I lived on the East Coast, where I'd go to Knick, Net, and Sixer games. There are a lot of great fans at these games. But things are far less innocent there (or, maybe it's the times -- maybe things are less innocent everywhere now). Players in these markets have to earn every little ounce of praise from fans who are not head-over-heels in love with their teams.
Some fans show up ready to rip into ... someone. Not sure they care who. They show up angry and drunk, and will scream at an opponent or a hated home player without much discrimination. These crowds can sure turn on the home team.
Anyway, here's NetsDaily on an incident in New Jersey last night:
With three minutes left in the third quarter of Monday night's game vs. the Kings, Keyon Dooling stole the ball from Kevin Martin near halfcourt and was immediately fouled by Martin. Dooling went to the line for two shots on the clear path violation. After he missed the first, one in a series of missed free throws by the Nets, a cascade of boo's rained down on the Nets' guard. Dooling made a motion with his hands as if to say, "bring it on" while mimicking the crowd's boos. After making the second and then quickly hitting a three, Dooling turned to the crowd as he ran down the court and sarcastically mouthed the word "boo!"

Marv Albert and Mike Fratello noted the episode and even replayed it on YES.

After the game, Dooling explained his feelings to the media.

"We don't like the boo's at home. It doesn't make us play better," Dooling said. "If they come and cheer us, that will be more helpful. We want to get it right. We don't want to lose, especially on our home court. We want to give them a good show. We want to play hard, we want to play with intensity we want to do all the things that make them happy. But in this league, sometimes you have rough starts, and cheering would help us get through it."

He was asked, Is it that bad? Dooling responded: "I played for the Clippers, and it was never like this," he said, a testament to just how bad he thinks things are.
Here's the thing: If you're a fan, and you paid a bunch of money for those seats, I guess you can do whatever you want. (I'd love it if you didn't curse up a storm, as I'd like to bring my kids once in a while, but whatever.) But if your long-term goal is to watch a winning team, I'm pretty sure booing does not get you there. Yelling at people, at best, might in some cases get you more effort. But was it effort that made Dooling miss that free throw? I suspect that in the long run supportive fans have a more positive effect on performance. Confidence is a huge part of performing well. And crappy, unappreciative fans ... that's just one more reason not to play hard, in the long run. It could also be a reason for a free agent not to sign in that town.
But here's the other thing: Just as I suspect Nets fans are hurting their own cause with a needlessly crude approach, I suspect Dooling is doing the exact same thing.
You're going to chastise them into loving you? Really?
They're all freaked out about the Wall Street crisis, their team is comically bad at home (but oddly good on the road), and the team is leaving town soon anyway. These fans have had it rough. And you're going to boss them around through the media, and expect it to make them love you again?
To my way of thinking, fans would cheer more than anything for a player who kept his mouth closed, played his butt off, and won some games.
(Photo by Jesse D. Garrabrant/Getty Images)