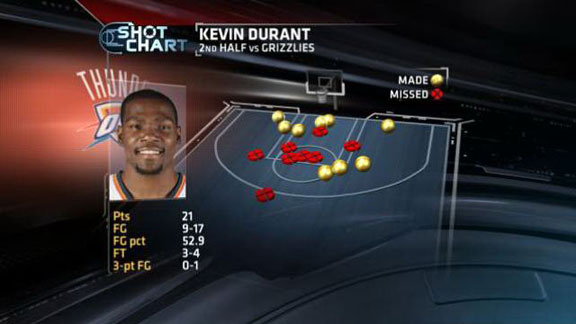 Kevin Durant excelled in the second half for the Thunder.Let's run through all the accolades for the star of stars in the Oklahoma City Thunder Game 1 win over the Memphis Grizzlies.
Kevin Durant became the third player in the past five postseasons with a 35-point, 15-rebound, five-assist game, joining LeBron James, who did it twice, and Carmelo Anthony.
The Elias Sports Bureau tells us that Durant has 33 straight playoff games with at least 20 points.
Final 7:30, Grizzlies at Thunder
That's tied with Michael Jordan (1990-1992) for the third-longest playoff streak in the past 40 seasons. Kareem Abdul Jabbar had the longest streak in that span—57 games. Jordan had another streak of 47 games ((from 1996 to 1998) that ranks second-best.
Durant's game-winning jumper with 11.1 seconds remaining in the fourth quarter was his fourth game-tying or go-ahead shot in the final 24 seconds of a playoff game in the past five postseasons, tied for the most in the league with Ray Allen of the Miami Heat.
Durant took five of the Thunder's final six shots, making four of them. All five shot attempts came off touches that originated in the backcourt.
Durant earned his 12 fourth-quarter points. He touched the ball 15 times in the period, 11 times in the backcourt.