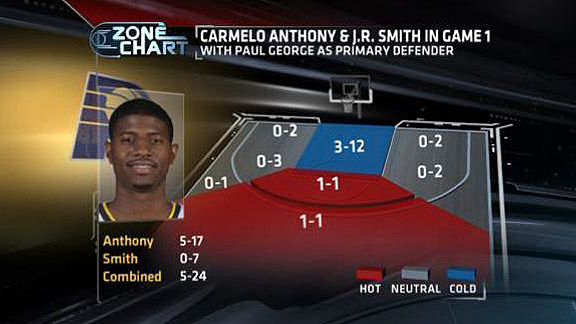 Paul George was one of the big keys to the Pacers win in Game 1.
The Indiana Pacers won Game 1 against the New York Knicks with defense and did so thanks to three players in particular- Paul George, Roy Hibbert, and Lance Stephenson.
Here's a thorough breakdown of the numbers that best illustrate that.
George's impact
George led the NBA in Defensive Win Shares and showed why with his Game 1 work against Carmelo Anthony and J.R. Smith.
The shot chart above shows how both of those Knicks fared when George was their primary defender. That duo was 9-for-19 against the Pacers other defenders, but only 5-for-24 combined against George.
Hibbert's impact
The Knicks were held to 43 percent shooting from inside five feet with Hibbert on the court on Sunday (league average on such shots: 59 percent).
Shooting Inside 5 Feet
Hibbert On/Off Court (Playoffs)
The Pacers have outscored opponents by 50 points inside five feet with Hibbert on the floor this postseason and have been outscored by 22 with Hibbert on the bench.
You can see a more detailed breakdown in the cHart on the right.
Stephenson's impact
Stephenson provided an unexpected spark Sunday, scoring 11 points and grabbing a career-high 13 rebounds.
The Pacers defense has been better with Stephenson on the court throughout the playoffs, allowing 90.8 points per 100 possessions with him on the floor and 112.0 with him off the floor.
On Sunday, they outscored the Knicks by 17 and held them to 38 percent shooting in Stephenson's 39 minutes.
In the nine minutes Stephenson was out, the Knicks outscored the Pacers by 10, and shot 69 percent, including 4-for-7 from 3-point range.
Looking ahead: Something has to give
The Knicks are 0-5 all-time in playoff series' after losing Game 1 at home, including 0-3 in best-of-7s.
Sunday marked their first such loss since the 1995 Eastern Conference semifinals, when they lost Game 1 on Reggie Miller's eight-point late-game outburst.
The Pacers have actually lost the last three playoff series in which they've won Game 1 on the road since that 1995 series.