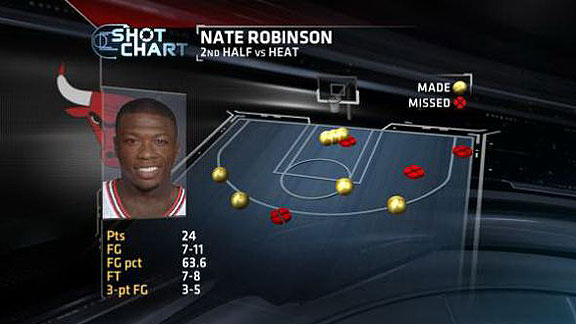 Nate Robinson came through late in Game 1.
This one was a stunner -- with the Chicago Bulls getting the big performance from the star at game's end to upset the Miami Heat in Game 1. The Bulls wore the Heat down, frustrating LeBron James in particular in the early going to set the tone.
Let's run through the statistical highlights.
Historical context
The Heat lost for the third time in the past 44 games and had their franchise-record-tying eight-game postseason winning streak snapped. The Heat are 1-2 against the Bulls, 13-1 against everyone else in their past 17 games.
Key to the game: Nate great again
Nate Robinson had 27 points and nine assists and scored or assisted on 25 of the Bulls' 35 points in the fourth quarter. He scored seven of the Bulls' last 10 points, in the 10-0 run in the game's final two minutes.
Robinson became the fourth Bulls player in the past 25 seasons to have at least 25 points and nine assists in a playoff game. The other three are Michael Jordan (who did it 27 times), Derrick Rose (five), and Scottie Pippen (two).
The Bulls' 35 fourth-quarter points tied for the most allowed by the Heat in the fourth quarter of any game this season.
Robinson's 66 fourth-quarter points and 8.3 fourth-quarter points per game are the best marks for anyone this postseason.
Not LeBron's best day
LeBron James Lowest Playoff +/-
As Member of Heat
James finished a minus-15, his third-worst plus-minus in a game with the Heat. He did not have a game in last year's playoffs worse than minus-11.
The two points James scored in the first half were the fewest he has scored in the first half of any playoff game in his NBA career.
Unsung hero: Iron Man Jimmy Butler
Jimmy Butler finished with 21 points and 14 rebounds, playing the full 48 minutes for the Bulls.
The Elias Sports Bureau notes that he is the fourth player since the NBA-ABA merger to play every minute of three straight playoff games.
He is the first since Allen Iverson did so for the 2005 Philadelphia 76ers.
Looking ahead
The Heat have lost Game 1 of a playoff series three times in the "Big 3" era. In the two previous instances -- last year's NBA Finals and the 2011 Eastern Conference finals versus the Bulls -- the Heat swept the next four games.