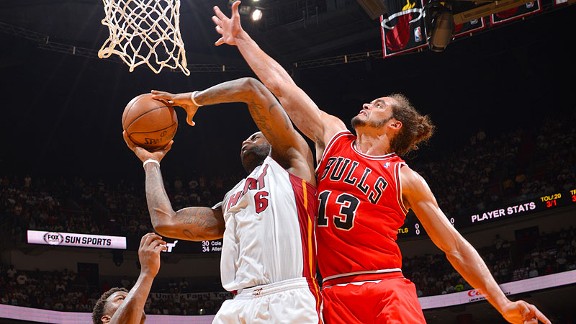 Jesse D. Garrabrant/NBAE/Getty Images
LeBron James and the Heat must find the energy to outhustle Joakim Noah's Bulls.
Write it down. Things got incredibly real in the 2013 NBA playoffs on May 6. If you weren't feeling it after Saturday's Bulls-Nets Game 7, you're feeling it now.
Here's just some of what mattered from a great night of NBA playoff hoops:
Joakim Noah owns crunch time, Part 1
How did the Heat lose to a Bulls team that wasn't nearly as good even when healthy and is entirely not healthy? There are lots of right answers, but my favorite is that the Heat simply weren't ready for the quantities of energy and scrap the Bulls are well-practiced in dishing out.
Exhibit A: One Heat crunch-time possession was ruined -- devolving into a contested 3-pointer from mediocre 3-point shooter Dwyane Wade -- when Marco Belinelli and LeBron James collided and, of all people, the much bigger, stronger James fell down and briefly was out of the play. Belinelli, an Italian who was once nicknamed "Cookies" by his teammates after growing soft while indulging in an American delicacy, seemed fine.
The nuclear reactor that powers the Bulls' overwhelming, everywhere, full-time attack is named Joakim Noah.
Fun example: Bulls guard Nate Robinson bricked a long 2-pointer with a little more than three minutes left in the game. Chris Bosh grabbed the rebound.
That was the Heat's only rebound in the game's final five minutes.
Some simply fell to Bulls by dumb luck. But those late rebounds that were fought for were essentially all won by Noah, with the exception of one that Bosh slapped out of Noah's hands, which shot out to Jimmy Butler.
Seven out of eight rebounds to one team -- big advantage.
---
Joakim Noah owns crunch time, Part 2
Marv Albert's call of a crucial missed James jumper with 28.8 seconds left in a game the Heat trailed by four: "Way off!"
This was the king of misfires, more of a spaceship than an air ball.
But watch Noah on that play. He's technically guarding Bosh, but for almost the entire possession he has his head turned entirely toward James. He knows the Heat's sweet play is to get James and the ball together at the rim, and Noah was having none of that.
Hardly any possessions begin as Noah versus James battles, but many end like that, at both ends.
This time, when James shook his defender and made his way to the paint, he found a big, mobile, scrappy Noah who had been waiting, essentially, since The Decision (when many thought James was headed to Chicago) to ruin James' night.
Did Noah tip that ball? Was an unseen block the reason James' shot was so errant? Hard to tell from the video. But Noah more than bothered it and deserves full credit for inspiring the awful miss, whether he made contact or not. Noah is a problem the Heat did not solve in this game.
---
Stephen Curry, Hero Baller
There are not a lot of ways to end a playoff game scoring zero points while your opponent rattles off 15 straight. Just by playing basketball you would normally luck into at least a few free throws, a putback, some lucky jumper.
But the Warriors, one of the NBA's finest shooting teams, solved the puzzle Monday.
They scored zero by selecting one of the NBA's least effective offensive approaches. Bulls assistant coach Johnny Bach used to call it the "Archangel Offense" back in the days of Michael Jordan. We like to call it Hero Ball.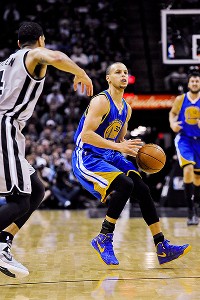 Noah Graham/NBAE/Getty Images
Over the final five of regulation and the two overtimes, the Spurs outscored the Warriors 41-25, while Stephen Curry missed all but two of his nine shots.
It consists primarily of force-feeding your superstar like a foie gras goose, whether he's open or not. There are no plays. The point of the exercise is to make sure the Warriors' best shooter, Stephen Curry, is the one who shoots. Everyone else stands around.
The downside is it stops whichever team is practicing this approach from getting an uncontested shot, and as it turns out, uncontested shots are the best shots. Remove them from the mix and there simply is not an NBA team that consistently scores well. Hero Ball is bad basketball.
It's not what the Warriors typically do, but they did it like crazy with the game on the line at the end of regulation and in overtime on this night. And it let them down.
The height of Hero Ball absurdity came on the Warriors' final play of regulation, with the game tied at 106 and the entire San Antonio stadium elated and standing at Danny Green's game-tying 3 (uncontested, thanks to a lovely bit of X's and O's from Gregg Popovich).
Curry dribbled the clock down guarded by San Antonio's hand-picked stopper -- the bigger, stronger and very quick Kawhi Leonard. The rest of the Warriors stayed glued almost to the sideline. There would be no pretty X's and O's on this one. Eventually the clock got low enough for Curry's liking, and he got a step on Leonard and darted to the free throw line with five seconds left.
For the remainder of the game, think of Curry as the spit and Spurs defenders as rotisserie chicken. They were all around him. First, Curry had the bigger Boris Diaw in front him and Leonard behind him. Curry picked up his dribble and threw a nice fake, sending Leonard, but not Diaw, flying. Tony Parker filled in Leonard's spot, though, as Curry remained surrounded, faking, pivoting and looking, generally, like the smallest and most desperate man on the court.
No dribble, no opening, precious little time -- and Diaw and Parker all over him, with Manu Ginobili a step away.
What, you might be asking, about the rest of the Warriors? The Spurs' rotisserie had eviscerated their coverage of every other part of the court. And for a moment, Curry looked to pass.
And, oh boy, did he have an easy one. Right there. Wide open. Hands in the "cocked and ready to fire" position. Curry looked at his teammate and saw that it was a rookie from the D-League.
Kent Bazemore. (To be continued.)
---
The Kent Bazemore situation
Bazemore, up to that point, had played nine minutes in the entire playoffs.
He shot 40 percent from 3 in the D-League. In short minutes in the NBA, he hasn't shot a ton of 3s but hit 29.4 percent of them. It was not crazy to think, wide open, that he could hit this, or swing the ball to a similarly open rookie Draymond Green, who, oddly, despite being a mediocre long-ball shooter in the regular season has hit half of his 16 3s in these playoffs.
Tie game. The Warriors get one free shot at an historic buzzer-beater. Curry got to decide who would shoot it: a wide-open rookie or a could-not-be-more-covered Curry.
Curry's fallaway, desperation, half-hook half-jumper was lucky to draw iron. Whatever percentage Bazemore shoots from 3, Curry on shots like that has to be worse. There would be no easy shots for the Warriors on this play -- or for much of overtime.
There was small consolation for Bazemore, who played a grand total of two minutes in the game. With 3.9 seconds left in the second overtime and the Warriors down by one, Curry had the ball on the break and wisely dished to Bazemore, who confidently attacked Diaw and made a reverse layup, putting the Warriors up one with the game almost over. It seemed, in real time, like the game winner ...
Until the Spurs won it, a few seconds later, with the most wide-open, non-Hero Ball shot of the game from a historically wide-open Ginobili. Those are the shots, the wide-open shots, that the Warriors barely even tried to get. And those are the shots that decided the ballgame.