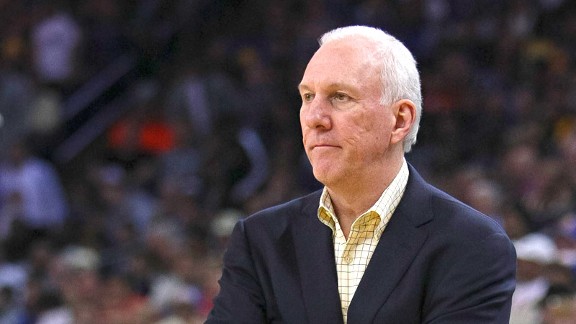 Kelley L Cox/USA TODAY Sports
George Karl won coach of the year, but ESPN Forecast's panel says Gregg Popovich is better.The NBA sent around the most interesting list:
George Karl 404

Erik Spoelstra 190

Mike Woodson 127

Gregg Popovich 120

Frank Vogel 60

Lionel Hollins 55

Mark Jackson 47

Tom Thibodeau 40

Kevin McHale 17

P.J. Carlesimo 8

Vinny Del Negro 8

Larry Drew 6

Doc Rivers 4

Scott Brooks 3
What is that exactly? The final tallies of a marathon night of pingpong at some offseason association meeting for coaches? The results of some kind of snooker tournament?
No, no. It's none of that. Those are the final scores of this year's NBA Coach of the Year voting.
OK.
A selected smattering of Twitter responses:
Many of those comments are focused on the maligned Del Negro finishing ahead of the near-legendary Rivers, but that's only one of the many surprises on this list.
Now, here's the thing: That's voting with a history of a certain kind of logic. Sports writers and broadcasters vote, and tend not to vote for the guy they think is actually the best coach, but instead for the guy whose team was most surprisingly good.
Almost everyone agrees Phil Jackson is right there with Red Auerbach in the "best coach ever" conversation -- an assertion nicely affirmed by the Lakers' disarray in his absence. But somehow Jackson won this award only once, way back in 1996. All those years all those voters believed he was the best ... but voted for someone else.
That tells you the NBA Coach of the Year award is for something other than being the NBA's best coach.
Different question: Who's the best coach?
Wouldn't you prefer an award that really was for the best coach? Isn't that what you want to know?
There's no reason we can't have that. In fact, ESPN Forecast -- a giant panel of voters who watch the NBA closely -- is ready to give you just that. Recognizing a need for a better way to identify the best coach in the NBA, we asked them today to identify the best coach in the NBA. We used a voting and scoring system similar to the NBA's. It took only a few hours, and the San Antonio Spurs' Gregg Popovich is the runaway winner. With the results from 70 voters in, the results:
Gregg Popovich 690

Tom Thibodeau 433

Doc Rivers 262

Rick Carlisle 169

Erik Spoelstra 131

George Karl 72

Rick Adelman 39

Lionel Hollins 38

Frank Vogel 20

Mike Woodson 8

Mark Jackson 5

Scott Brooks 4

Kevin McHale 1
These results are far different from the real coach of the year vote, of course. Popovich went from fourth to first. Rivers shot up the list. Carlisle and Adelman didn't get a single vote of any kind in the NBA's contest, but both are respected and on the Forecast list.
That, I suggest, is the point of this exercise. Here, if you want it, is a list that uses smart information-gathering techniques to roughly approximate who we (everyone really -- media, fans, players, owners) truly believe coaches best.
Coaching is murky and tough to vote on with conviction. The best of it happens behind closed doors and away from microphones. Assistants do a lot of what matters. It's difficult to score. Maybe Phil's roster got him a lot of those wins. Tim Duncan might be the secret sauce of Popovich's intimidating win percentage. Voters seem to have historically bet that the coach of the "little team that could" must be doing a hell of a job.
But giving the award to someone other than who we think is the best coach has robbed the award of a great deal of authority. (The list of past winners is littered with the likes of Mike Schuler and Sam Mitchell -- guys the league as a whole has decided, upon review, really are not cut out to coach in this league.)
Karl, of course, is a respected NBA lifer on both lists. That he belongs somewhere up there is beyond doubt. But at the top?
The logic of his winning works like this: The Nuggets don't have an offensive superstar. That point is in the first line of the news story about Karl's victory. By and large such teams are seen as doomed -- despite the ongoing playoff success of the similarly starless Bulls and Pacers.
In this particular case, however, it's tricky. Stat geeks loved that roster from the start, and using different approaches, John Hollinger and several others predicted the Nuggets would be this good or better. (Some stat geeks say the big thing holding that roster back was ... Karl himself.) Not to mention, David Thorpe would argue that in the second half of the season, the Nuggets absolutely did have an offensive star, and his name is Ty Lawson.
Whether you buy what Hollinger or Thorpe had to say, I suspect you'll agree when I say the NBA's results do not really reflect who we truly believe are the best coaches in the NBA. Not these names, not in that order. If you owned a team, would you really pursue Karl over Popovich? Would you call Frank Vogel before Tom Thibodeau? Would you blow off calls from Rivers in favor of Del Negro? (Would you forget entirely recent championship- and award-winner Rick Carlisle?)
The big crime here, of course, is that the NBA's results, while satisfying a certain itch to reward surprising performance, are not anybody's real list of who is the best coach in the NBA.
And isn't that what this award ought to be?