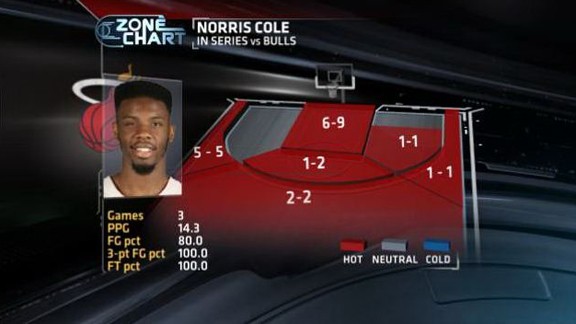 Norris Cole has shot lights-out in this series.The Miami Heat regained control of the Eastern Conference semifinals with a rugged Game 3 win over the Chicago Bulls on Friday night.
The Heat are now 43-3 in their past 46 games, 21-1 in their past 22 road games.
LeBron James led the way with 25 points, but the Heat win was about much more than his effort. Here's a snapshot of some of the statistical highlights.
Difference-maker: Chris Bosh
Chris Bosh got 45 touches of the basketball in Game 3, which nearly matched the 47 he had combined in Games 1 and 2 of this series.
Bosh became the second player in Heat postseason history with a 20-point, 19-rebound game, joining Shaquille O'Neal, who had a 30-20 game in 2006, when the Heat won their first NBA title.
Unsung star: Norris Cole
Norris Cole has scored a playoff career high 18 points in consecutive games. His previous career high in the playoffs was eight points.
Cole is 8-for-8 in this series on 3-point shots.
In seven playoff games, Cole is shooting 80 percent from the field on spot-up shots (12-for-15, including 9-for-9 versus the Bulls). In the regular season, he shot only 36 percent on that type of shot.
Cole was part of a Heat bench that outscored the Bulls' bench 36-8. Ray Allen was only 1-for-6 from the floor for the Heat, but in the 22:45 that he was on the court, the Heat outscored the Bulls by 17 points.
What went wrong for the Bulls
The Bulls outscored the Heat in the paint 44-28 but did not have a good night when it came to midrange jumpers. The Bulls were 6-for-18 on 2-point shot attempts from outside the paint and are shooting only 31 percent on those shots in the series.
The Heat were more accurate from midrange, making 13 of 26 in the Game 3 win.
What does a Game 3 win mean historically?
Of the 192 times a best-of-seven series was tied 1-all, the Game 3 winner won the series 147 times (76.6 percent).