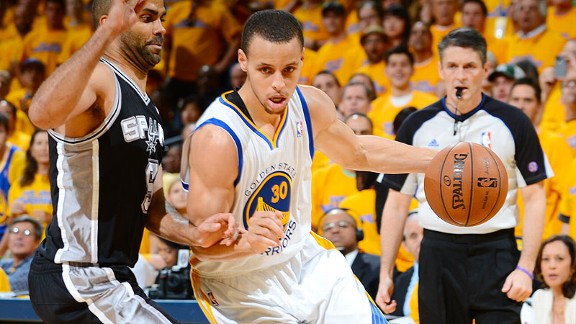 Garrett W. Ellwood/NBAE/Getty Images
Play a ton of minutes in the regular season, like Stephen Curry, and injuries are common.
A while back I found that players who play a ton of minutes don't win NBA titles anymore.
It used to happen all the time. Michael Jordan did it constantly. But it has been almost a decade since any player has pulled that off, even though a who's who of MVPs and the like have attempted it.
What interests me is: What happens? Those players who still play huge minutes ... what's happening to them?
I just took a peak at the top 20 players in total minutes played this season.
Now, think about this -- these are the NBA's Iron Men. Not just the ones who some coach theorized could pull off massive minutes. These are the ones who really did. This season.
If coaches are managing minutes correctly, you could expect this group to be among the NBA's least likely to get injured as the season moved into the playoffs. These are, presumably, theoretically, the men who can take it.
Were they?
As a group, they have indeed had it very rough.
I found these 20 players fall into four categories:
Catastrophic injury: Kobe Bryant, David Lee, Luol Deng, Russell Westbrook
This is amazing and scary. A full fifth of the 20 NBA players with the heaviest minutes load this year are either certain not to contribute any more this season, or are unlikely to.
Kobe Bryant, fourth on the NBA's list of minutes played this season, stars in this group with a ruptured Achilles. But he's part of an All-Star cast. Russell Westbrook's knee injury will keep him out for the rest of the playoffs and has dealt the Thunder's title chances a serious blow. He was 17th this season in total minutes played -- but was much higher on the list before some late-season rest.
All-Star Warrior David Lee has been getting back on the court in short stints, but by and large his hip injury has been a defining storyline in these playoffs. He was 12th in minutes played this year.
What would the Bulls, going toe-to-toe against the Heat with a short bench, give to have their typical minutes leader Luol Deng back? But he is out possibly for the rest of the playoffs with complications from a spinal tap, related to an infection. Many would assume that would have nothing to do with heavy minutes. That could be so. But don't forget that exhausted bodies can malfunction in many different ways.
Honorable mention: Derrick Rose is still out after being 24th in minutes per game last season. Over the 38 games before his season-ending injury, Rajon Rondo played 37.4 minutes per game, good for 13th in the NBA this year.
Banged up: Stephen Curry, James Harden, Deron Williams
Stephen Curry's playoff injury saga -- he has been a near scratch for many games -- comes on ankles that played the seventh most minutes in the league this season. And he's playing against the Spurs, the team that has always been so strategic in managing minutes in the regular season, to keep the injury-prone (Manu Ginobili) and aging (Tim Duncan) at their best. Should the Warriors have protected him a bit more to have him firing on all cylinders now? Worth considering for next year?
James Harden was underwhelming in the postseason -- he could barely eat while battling strep throat -- after playing the NBA's sixth-most regular season minutes. Deron Williams battled injuries all season, but still played the 19th most minutes. His Nets lost to the lower-seeded Bulls at home in a Game 7.
Didn't make the playoffs.
Say goodbye to Damian Lillard, who topped the minutes list, as well as DeMar DeRozan, Jrue Holiday, O.J. Mayo, Evan Turner, Kemba Walker and Nicolas Batum.
Dealing with it: Kevin Durant, Paul George, Klay Thompson, LeBron James
Halfway through the second round, a grand total of four of the NBA's top 20 players in minutes played are alive in the playoffs anywhere near firing on all cylinders, health-wise.
That's the same percentage that have had catastrophic injuries.
Hats off as well to Bucks Monta Ellis and Brandon Jennings, who made the playoffs intact after finishing in the NBA's top 20 in minutes played.
If Durant looked a little tired missing two free throws late in a Game 3 loss, it might have something to do with having played more regular-season minutes than every NBA player not called Damian Lillard. Indeed, unless the Thunder right the ship and win a chip, this will mark the 10th straight season nobody has both played 3,000 minutes and won a title. Durant is the only candidate remaining.
Youngsters George and Thompson were eighth and ninth in the league in minutes played (but at a hair below 3,000 minutes) and are performing well.
James -- in a season when his coach paid careful attention to managing his minutes -- still finished 16th in total minutes. And he's an interesting test case.
David Thorpe's theory is that the reason the NBA has changed to favor managing minutes is that defense has become a lot more work. Now it's five players moving constantly, while it used to be a lot of isolation basketball, with many players standing around watching as one guy pounded the ball into the post. Watch James at both ends and you'll see what Thorpe is talking about. There's not much standing around these days.
The Heat believe exhaustion due to long minutes is why James' performance tailed off badly in the 2011 Finals, which is something they have been trying to address ever since.
James has played 191 fewer regular-season minutes that he did two years ago. Did Spoelstra get him enough rest this time around? We'll find out in the next few weeks.