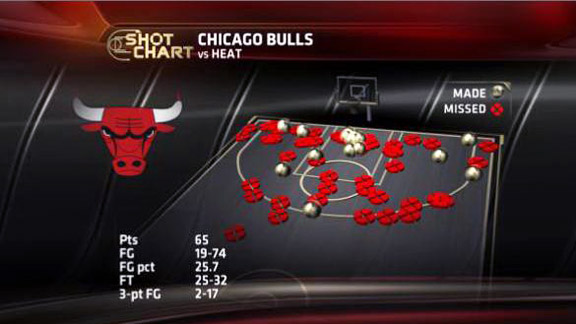 Along the lines of pictures being valued at a thousand words, the shot chart above makes up most of what you need to know from a statistical perspective about the Miami Heat's win over the Chicago Bulls on Monday night.
The Bulls shot 25.7 percent from the field, the worst they've ever shot in a playoff game, and the first team to shoot below 26 percent from the field in a playoff game since the Hornets did so against the Heat in 2004.
The Bulls had only scored below 70 points in a playoff game once (69 against the Detroit Pistons in 2007) and had never shot even below 30 percent from the field prior to this game.
Nate Robinson's 0-for-12 was two shots shy of the worst 0-for in NBA playoff history, a dubious mark shared by Chick Reiser (1948) and Dennis Johnson (1978).
The stat of the day from this one may be this:
The Heat had 18 baskets in the paint in this game. The Bulls totaled 19 baskets for the game.