Unsung heroes in Los Angeles and Denver. Oversung heroes in San Antonio and Detroit. Song lyrics from the TrueHoop Network: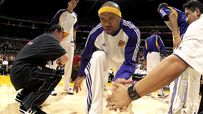 Darius Soriano of Forum Blue & Gold: "Over his two stints with the Lakers, Derek Fisher has been one of the more unheralded players on the team. Sure, he's hit some big shots (most notably this one) and he's contributed to many wins. We all recall his late-season return from injury in 2001 as a major key to our postseason romp that ended with a championship trophy and an amazing 15-1 record in the playoffs. But for the most part, Fisher has been just a role player...And this continues now. On this current team, Fish is a guy that is doing exactly what we need of him. He is helping this team, despite some of his weaknesses. I know that Fisher has never had the strongest instincts when handling the ball on the fast break. I also know that Fisher is not the best finisher when he gets into the lane. It's also clear that Fish has lost a step and is no longer the strongest on-ball defender against quick PG's. Kurt even coined an acronym that describes his penchant for shooting a pull up jumper in transition. However, all of these issues combined don't come close to the negatives that his predecessors possessed. They also don't diminish his value to this team. And if we're talking about value, some things need to be mentioned. During the time that Farmar was out with his knee injury, Fisher saw his average minutes increase from 26.9 min/gm to 36.8 min/gm. This stretch included seven instances of playing over 40 minutes in a game. However, with that increased workload, we actually saw a better player. With Farmar out, Fisher shot better from the floor, got more steals per game, and fouled at a slightly lesser rate (no small feat considering the minutes increase). He was also still money from the foul line, was still drawing charges, and was still making big time jump shots when the team needed a bucket. Basically, he was playing the best he had all season. And all of it came from a 34-year-old player that most of us thought would have ceded his starting position to someone else by now."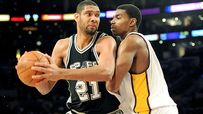 Graydon Gordian of 48 Minutes of Hell: "What I am surprised to hear myself saying is that this afternoon's loss was primarily a failure of on-court leadership. Most specifically I am referring to Tim Duncan. In situations where the team is making mental errors (particularly in terms of our shot selection), I expect Duncan to step up and clarify how we should be putting the ball in the hoop. I expect Duncan's defensive focus to become equally unbreakable and infectious. I expect him to lead. It's not that Duncan had a bad game. It was decidedly average. But throughout the contest he came off as being nowhere near as focused as his counterpart, Andrew Bynum. Bynum gave him trouble on both ends of the floor and looked far more interested in making a statement than Tim did. I am not saying Tim needs to prove anything to anyone; clearly he doesn't. But that is not an excuse for allowing yourself to get out-muscled on both ends of the court."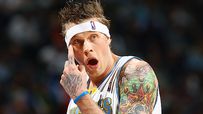 Jeremy Wagner of Roundball Mining Company: "Is there anything more enjoyable than watching the Denver Nuggets pound on the Utah Jazz? What made it even better was the fact that they played very good defense. The Jazz did score quite a few easy baskets as they tabulated 54 of their 97 points in the paint, but the way they execute their offense you know that Utah is going to score some easy hoops. Do not let the handful of open layups Utah earned take away from the way the Nuggets defended. The Nuggets defense started off a little sluggish, but once Chris 'Birdman' Andersen checked in with 2:50 left in the first quarter they really clamped down. The Jazz run a lot of tight screens and cuts right in the lane in front of the rim. That allowed Andersen to basically guard the rim without worrying about a defensive three second violation. His presence deterred the Jazz from entering the ball in the lane."
THE FINAL WORD Queen City Hoops: Laws of "Average" in Charlotte. Valley of the Suns: Crisis management in Phoenix. Piston Powered: Lowering the bar in Detroit.