Mo Williams holds a perimeter clinic. Charlotte Bobcat fans hold their breath. The Lakers hold our attention. Hold on, as we take a spin around the TrueHoop Network: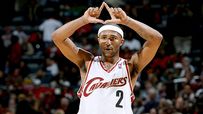 John Krolik of Cavs the Blog: "Let's get into some Mo Williams superlatives.
43/8/11 is, without a question, the best line posted by a Cavalier not named 'LeBron' in the LeBron era, and is probably top-5 in lines that include LeBron. I mean, if Mo snags two more measly boards and hits two of the icing-on-the cake heat-check threes in the final minutes, he'd have LBJ's iconic 50/10/10 line plus another assist. And Mo did it with only 24 shots.
Scottie Pippen's career high? 47.
Mo's True Shooting? 79.6%. Look at that. And if you count the two technical free throws he took as a bonus and not as a shot attempt, that number bumps up to 82.6%. That is absolutely ridiculous.
A look at the shot chart will tell you that Mo, who came into this game as perhaps the best midrange shooter in the game, put on an absolute perimeter game CLINIC that you should absolutely show to your kids if you want them to learn how to score from outside effectively. (Even, maybe especially, if your name is Gloria James)"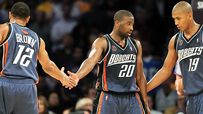 Brett Hainline of Queen City Hoops: "I nearly gave up on this game, when the Cats fell behind in overtime. I was doing some deep breathing, trying to tell myself that it was just a game and nothing to be upset over (it did not work) - and while I was doing that, the Bobcats were on their way back. I had no such qualms about it being just a game when I was celebrating the win...Fortunately for me/them, the Bobcats were not as defeatist as I. These are not the same Bobcats that used to get leads on good teams, only to lose when the opponent finally decided to play. They did not get down about their free throw struggles, but battled back in the face of adversity and got a big win on the road."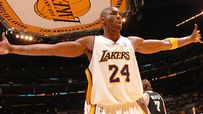 Matt Moore of Hardwood Paroxysm: "Do we create the Lakers to have something familiar and dominant to rail against, or to worship for their dominance and flash? Or do they somehow mine the legacy of their franchise and produce something so powerful and yet so predictable? Does Kobe recognize the drama that he creates in every dagger, self-aware of the swoon and curtains that his on-court persona has wrought? Or is he just the dreadnought and the anti-hero at once, oblivious to his story but still the center character?"
THE FINAL WORD
Piston Powered: 186-184!
Hornets247: New Orleans hot spots.
Two Man Game: Shawne Williams ranks a two-out-of-five on the Jim Jackson Index.