The Bulls show signs of life. Jeff Green shows signs of promise. Carmelo shows signs of recovery. Sign on to the TrueHoop Network for more: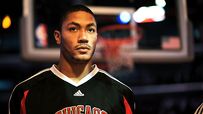 Matt Moore of Hardwood Paroxysm: "I hated the Bulls pick of Rose, even though I felt he was the best player in the draft. I thought he would get muddled with the Bulls guards and have to progress too quickly. He's worlds above every player on that team. The style on offense is flashing and brutal. He's active and focused on defense, never frantic, never lost. He's certain with his movement, slick with this adjustments, and there's not a piece of his game I haven't seen from him. Hustle, rebounding, touch, power, speed, quickness, anticipation.
I wonder what he's going to be like when he's got a real coach."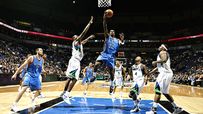 Joe Newell of Daily Thunder: "[Jeff Green's] skill set is unique: he is a sweet shooting big man who isn't afraid to go inside. So often we see big men who kind of do one or the other. Either they camp outside and bomb away and avoid the paint (Andre Bargnani) or they do the dirty work inside and don't have the jumper (Collison). Every team out there would love to have the true inside/outside big man, but there just aren't that many to be had. The guys that are able to pull it off are the matchup nightmares that every coach dreams of having, guys like Nowitzki, Bosh and Stoudamire...
...how much more effective could the team offense and his personal offense become if [Green] would learn to work the inside game a bit more? The idea being that getting inside and attacking the basket gets you to the free throw line. Green is a very good free throw shooter, and for the big minutes he plays, he really should be getting more easy offense.
If Green can begin to get more easy offense by attacking the basket through his post game, taking bigger guys off the dribble, and rolling to the basket on the pick and roll (instead of shooting the midrange), the whole team would benefit. If he could get his FTA's into Nowitzki-Stoudemire territory, he could easily bump up his scoring numbers by a couple points per game and increase his efficiency."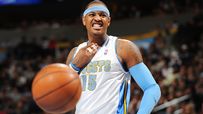 Jeremy Wagner of Roundball Mining Company: "Welcome back Carmelo Anthony!
...You could have found more rust on Stan Kroenke's money clip than on Carmelo's game.
Melo did a good job mixing up his offense. He started with jumpers and then moved on to attacking the rim. He made a couple of nice drives both to the left and the right for easy scores. His jumper looked solid...He also passed the ball pretty well finishing with five assists, highlighted by a touch pass into Nene who was diving through the lane to the rim. Melo also had a good showing from the free throw line, as he made 9 of 11 attempts.
If Melo did display any rust it was handling the ball. He was called for two palming violations, which I do not expect to see many more of in the future, on his way to five turnovers. He also only pulled down two rebounds, but that did not seem to be related to any attempt to avoid contact. He was in the lane when he needed to be."
THE FINAL WORD
Valley of the Suns: Phoenix and Tucson are starting to look oddly similar.
Hornets247: An ugly loss -- but not a bad one -- for New Orleans against the Spurs.
By the Horns: A pretty win -- and an important one -- for Chicago against the Suns.
(Photos by Noah Graham, David Sherman, Garrett W. Ellwood/NBAE via Getty Images)