Whose MSG performance was more impressive? How long did it take for the Phoenix Suns to bury themselves in Oakland? Is Clyde Frazier a secret literary critic? The universe's great questions are answered at the TrueHoop Network.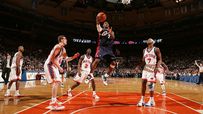 Matt Moore of Hardwood Paroxysm: "Did I enjoy James' more? Yes. Would I have enjoyed Kobe's more if the games had been reversed? Yes. It's not about the personalities, it's about the fact that the complete and total basketball game is something that really floors me and it doesn't get much more complete than 50 points, 11 assists, 10 rebounds, and 2 blocks.
But Bryant scored 61, did it efficiently, in every conceivable way, and often with a defender's hand in his face. Similarly, while Byrant obviously forced it as much as James did, the results were better and therefore he's excused for them.
But man, James went Nova tonight.
While Kobe's was all about bringing death and destruction the doorstep of his enemies, James tonight was just about exploring the concept of basketball...There was a joy to LeBron's performance, that, even though it was forced to many degrees, is the kind of infectiousness that can change a culture. James is changing our culture of basketball, with each game and each center of dominance."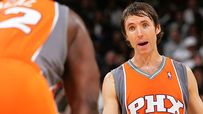 Michael Schwartz of Valley of the Suns: "Two minutes and 38 seconds.
That's how long it took for the Warriors to jump out to a 17-2 lead and how long it took for any momentum from the Suns' 48-point blowout on Monday to putter out.
That's how long it took for the Warriors to hit five three-pointers and six shots in all, how long it took for Kelenna Azubuike to score 11 points, how long it took for the Suns to commit two turnovers and miss three shots and how long it took for Terry Porter to call two timeouts.
Two minutes and 38 seconds is all it took for the Suns to have no chance in an eventual 124-112 defeat that is sure to put another nail in the coffin of the Phoenix Suns as we know them today."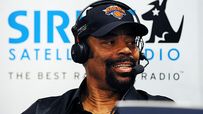 John Krolik of Cavs the Blog: "I love Clyde Frazier. He is a national treasure. For all the opposing broadcaster love for LeBron, few of them put in the necessary effort to put their adulation in couplets. I want Clyde to critique my short stories. 'It was very niiiiice, with this char-act-er arc, I liked how he's decidin' while you're providin'…context. I think the symbolism here was…resplendent.' I'm really not being sarcastic. Clyde and Jalen Rose are the two NBA talking heads who always seem really happy and satisfied while they're doing their jobs, like they just ate thanksgiving dinner right before they went on the air."
THE FINAL WORD
By the Horns: How the Bulls are like Animal Kingdom.
Daily Thunder: The limits of Earl Watson's "pesky, body-up, lean on you defense."
Queen City Hoops: Ode to Gerald Wallace.
(Photos by Nathaniel S. Butler, Rocky Widner, Jennifer Pottheiser/NBAE via Getty Images)