Who's Better, Who's Best? Vladimir Radmanovic v. Adam Morrison? Carmelo Anthony v. Kevin Durant? Ray Allen v. Mo Williams? Vote early, vote often at the TrueHoop Network: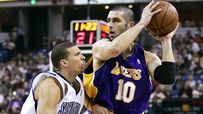 Matt Moore of Hardwood Paroxysm: "First, the Bobcats aren't rebuilding.
To say they are rebuilding is like stating that taking a large pile of dirt, 2x4s, and a big metal sheet is a house. Sure, you have parts of a house. But I'm still walking down to the 7-11 to use the restroom, you know?
Second, let's talk about 2010. Charlotte is not on the list. It's just not. And I'm a small market guy, people. But Charlotte, by even their own fans' admission, is not going to be on the list for the Free Agent Class of Doom. So if you're not playing for 2010, why on earth would you concern yourself with clearing cap space? Don't you want big contracts for medium players you can parlay into cap space when you can use it? Don't you want veteran players that you don't have to sign to long term extensions for max deals? They have enough good players where they're not going to get a top five pick. Isn't it better to put some wins together so your team, doesn't, you know, dissolve?
it's not like Larry Brown's going to ask him to run point. Radmanovic won't be asked to defend Kobe Bryant or LeBron James. He needs to knock down shots and not do stupid things. And worst case, he's gone in 2011, when everyone else will have already blown their payroll the summer before. Radmanovic doesn't create any demands for playing time, or attention from the media. As long as he doesn't go snowboarding, they're good. Yeah, it's six million. But it's six million for one guy versus four million for several guys who will just frustrate you."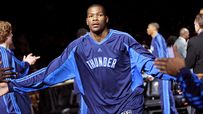 Joe Newell of Daily Thunder: "If Carmelo is the sole Western Conference small forward worthy of All Star consideration, you would expect him to be having the best season among them right? Take a look here at a head to head comparison of Carmelo Anthony and Kevin Durant...Durant is shooting the ball much better than Carmelo any which way you look. He's got a better field goal percentage, better 3fg percentage and better free throw percentage (KD is actually 18th in the entire league in 3fg% at this time). There's no denying Durant is shooting well, significantly better than Carmelo.
...Carmelo has some points in his favor. He is a better rebounder than Durant. Carmelo is also better at distributing the rock to his teammates and he gets to the line more frequently than Durant...However, Durant is a better shot blocker, turns the ball over less, and draws fewer fouls. Also consider that Durant spent the first 13 games of the season out of position at the shooting guard position. You will probably notice that Carmelo actually scores 4/10ths of a point more per 36 minutes of play, but also notice that he uses more than an extra field goal attempt to do it in. Durant is a more efficient scorer than Carmelo.
...Durant does more with each possession, and uses fewer of them."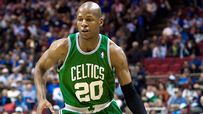 John Krolik of Cavs the Blog: "I can't really sum up any righteous anger over Ray Allen getting the injury-replacement all-star spot over Mo Williams, mostly because Allen was a huge snub the first time around; he's been Boston's best offensive player, he's shooting a career-high 63.2% TS to lead all guards while scoring 18 a game. I'd actually put him in there instead of Pierce. I think Rashard Lewis was an EXTREMELY questionable choice over Mo, and there's certainly a strong case for Mo over Devin Harris, but this actually wasn't all that bad."
THE FINAL WORD
Hardwood Paroxysm: Rob Mahoney offers a counter-point on the Morrison/Radmanovic deal.
Hoopinion: A rough night in Atlanta.
Valley of the Suns: How is the Amare buzz playing in Phoenix?
(Photos by Rich Pedroncelli/Associated Press, Rocky Widner/NBAE via Getty Images, Chris Livingston/Icon SMI via Getty Images)