Do fans in Phoenix have it all wrong? Are there things Kobe gets that LeBron doesn't? Have the Hornets learned to cope without Chris Paul? Nothing is "untouchable" at the TrueHoop Network.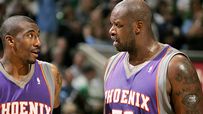 Matt Moore of Hardwood Paroxysm: "Stoudemire has had a 300 pound loudmouth move into his apartment, eat all his cheezewhiz, hang up on all his calls when he's on the other line, take up the DVR, drink all his Sunny D, and hit on his girlfriend. The acquisition of Shaq was supposed to create a dominant twin towers in the post. But in those combinations, one player is always the primary scorer alpha dog. And if Shaq is in your paint, he's the alpha dog.
I'm not saying it's Shaq's fault.
Wait, yes I am.
It's exactly Shaq's fault. What's more infuriating is that Phoenix fans have actually fallen for it. They truly believe that Shaq's little resurgence, which has been conspicuously absent against playoff teams, I might add, will be what takes them deeper into the playoffs (deeper than multiple conference championship appearances and several six game series against the eventual champions, but hey, they act like they never got past the first round with D'Antoni). But let's make this real simple. If you're relying on a 37 year old center with conditioning issues who has trouble going in back to back games to lead you to a championship?"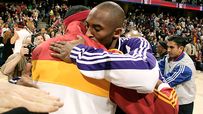 John Krolik of Cavs the Blog: "Fairly quiet night for that Mamba fella, as apparently he was battling a touch of the flu and, more importantly, Lamar Odom and Pau Gasol were having an absolute hammer party down low, with Lamar shooting 13-19 from the field and Pau, who looks worlds better when Bynum doesn't play, directing traffic and getting 6 assists.
Kobe's off-ball movement in the first quarter to get low catches was an absolute thing of beauty, as were his little mini-jumpers to get the buckets. I think one reason why so many people go with Kobe over LeBron, despite the evidence to the contrary, is that Kobe's solved a lot of the problems LeBron has, and the difference is evident, while the things LeBron does better than Kobe are either more subtle or a result of pure athletic talent -- he just seems like he's at a further point on his development curve. And that turnaround to end the game was absolutely ridiculous."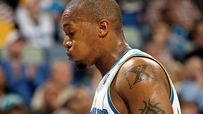 Ryan Schwan of Hornets247: "[G]ive it up to Byron Scott, folks. The vaunted ball movement you were all hollering for? It was in full effect tonight. They opened the game cutting and moving, with Peja setting down screens for Daniels and Butler before fading high for open shots off of picks by West or Bowen. You'll also notice that of the 13 possessions David West had tonight, only three were in a basic low post situation. All the rest involved his cutting back to the free throw line, receiving the ball, looking for open shooters, and if nothing opened up, driving into the paint against Jefferson, who couldn't move fast enough to keep up with him. Peja and Butler were rolling off of curls all night, and though Devin brought back the old Pick-and Roll offense when he was on the floor, there was still a lot more moving around as he drove to get open."
THE FINAL WORD
Queen City Hoops: A smart comparison of Vladimir Radmanovic and Adam Morrison's defensive shortcomings (with charts!).
Valley of the Suns: Why Steve Nash is "untouchable."
Hardwood Paroxysm: 20 things Anderson Varejao should never do.
(Photos by Melissa Majchrzak, David Liam Kyle, Chris Graythen/NBAE via Getty Images)