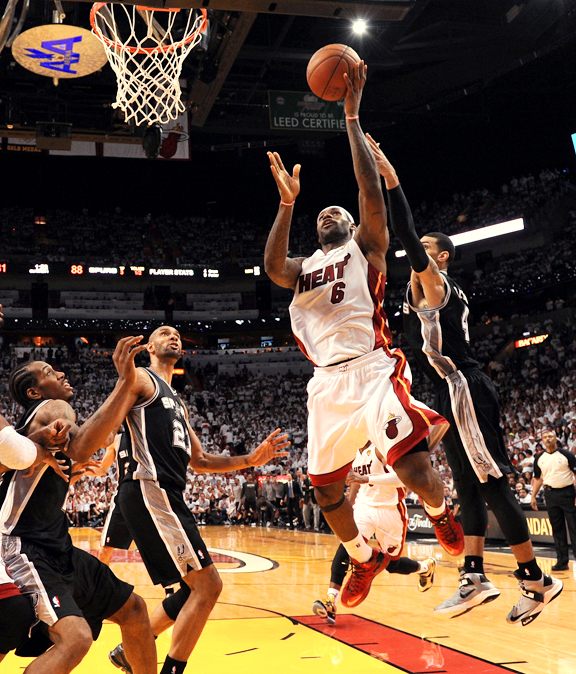 Steve Mitchell/Getty Images
When the Heat brought the fight to the Spurs, it worked.
David Thorpe is my X's and O's mentor. We have been talking for hours a week for years, and I have learned a ton about what coaches do and how much it matters.
After Game 1, though, while the whole world was talking X's and O's like San Antonio's "anyone but LeBron" defensive scheme or early-game substitution patterns -- classic Thorpe issues -- Thorpe talked for a half-hour about how the Spurs won, and barely mentioned tactics at all.
The topic was aggression.
If he were Erik Spoelstra, I asked him, what would he be telling the Heat right now? Thorpe didn't hesitate: "I'd go nuts. I'd tell them this was horse s---. It was like they were playing the Milwaukee Bucks in November, thinking they were so much better that just doing things the right way would be enough. I'd say guys, we're giving them our rings. Against a lot of opponents they're so much better that going through the motions is enough. But they're not so much better against the Spurs. San Antonio has won, what, seven straight playoff games now? The Heat were so afraid to make mistakes that they were making them all over the court. I'd say we've got to take the fight to them. We've got to take chances. We've got to blitz them and attack them. Norris Cole did it. Dwyane Wade did it some. 'Bron only now and again."
Some particulars:
"Go and watch some video of the Heat playing defense from the second half of Game 7 against the Pacers. You wouldn't find that team anywhere on the court tonight. Both teams were merely good on defense. The Spurs managed to kick up the defensive pressure, especially, on ball, for a few minutes of the fourth quarter, and it was enough to win the game."

"I LOVE Pop. One thing he did that was amazing was he just went bananas at one point screaming at Tim Duncan to come earlier to set a screen for Tony Parker. Not a lot of coaches get on Hall of Famers like that. But what I see him saying is don't let Miami get its defense set. Go go go. He was screaming about setting ball screens early. And it worked. FAST. Go fast. Pop knows Miami will go on some serious scoring runs in this series. But, unlike the Pacers, he knows the Spurs can have scoring runs of their own, especially if they are aggressive and quick."

"Chris Bosh is a wonderful player, and I love his game. But he was horrible in this one. The Spurs were saying 'let him score. Let him score 40 if he wants, out there on the perimeter. As long as he isn't getting to the line, and getting our bigs in foul trouble.' Bosh was all catch and shoot. But he can also catch and GO. Attack. That's part of his game, and he needs to do that."

"Play good D against the Pacers and you'll get some unforced errors. Not so against the Spurs. Solid isn't enough. The model is the Thunder, who went down 0-2 to the Spurs last year, then got super aggressive, jumped everything, played with incredible athleticism, and won four in a row."

"LeBron only attempted four free throws."

"Miami needs to use every possible method to get the ball close to the hoop. Drive, post, pinch post ..."

"The Spurs are only surviving by not guarding people who can score. Bosh, for instance, can both shoot and drive. We need more."

"The Heat have often been at their best after being physically challenged. They have risen to the occasion. The Spurs corralled the Heat on a lot of possessions, rather than doing anything that would make their hair stand up. I almost wonder if that was intentional, to keep the intensity level down. Without the Heat being super intense, the Spurs can carve them up."

"Miami is no longer a team we can rip for wilting. They have trailed and come back in series before. Yes, the Spurs are the best opponent they've faced. But Spo is fantastic and they'll come back strong with something. The Heat are a few days from Game 5 and Game 7 against the Pacers, when they had to really elevated their intensity to crazy levels. They couldn't do it again in this game. It's hard to do it often. But if they can get very aggressive, the Spurs could be in a world of hurt. Miami could win some blowout games."