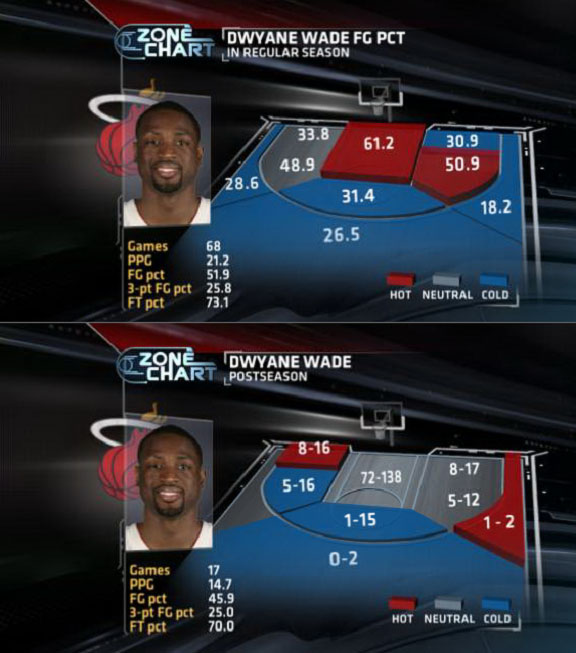 Dwyane Wade has not performed at the same level in the postseason as he did in the regular season.As the NBA Finals heads to Game 2, let's take a closer look at the postseason struggles of Dwyane Wade and Chris Bosh, which figure to be a key storyline in the rest of this series.
1. During the regular season, Wade and Bosh shot a combined 61 percent from inside the paint.
In the postseason, as their shot charts show, they are a combined 52 percent from the field.
2. LeBron James made three of four shots in the paint in the second half against the Spurs. His teammates were a combined 4-for-13, including 2-for-8 from Bosh and Wade.
3. Bosh is 14-for-50 from the field in his past five games, including 3-for-16 in the paint. He was one for four in the paint in Game 1 against the Spurs.
Of the 85 shots Bosh has taken this postseason, 49 have been from at least 15 feet out, including 12 of the 16 he took in game 1.
Here's a look at his shot chart, comparing his regular season with his postseason.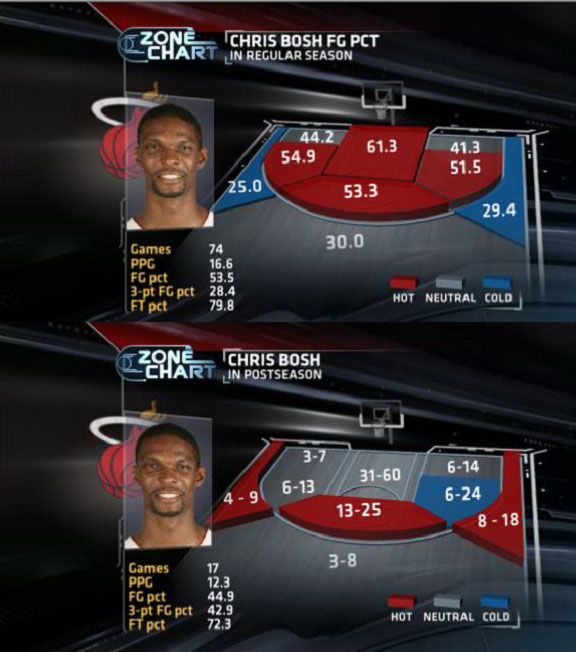 4. Wade is averaging 2.3 points per game in the fourth quarter this postseason. He was held scoreless in the fourth quarter of Game 1 of the NBA Finals.
Wade is a respectable 12-for-20 when shooting from inside the paint but has one basket outside the paint in the fourth quarter or overtime this entire postseason. He averaged 5.8 points and had 37 hoops from outside the paint in the 63 games in which he played the fourth quarter or overtime in the regular season.
5. Wade has shot 50 percent or better from the field in six games this postseason. The Heat have won all six of them. The Heat are 44-5 this season (regular season and playoffs combined) when Wade makes at least half of his shots.
Likewise, the Heat are 9-0 in games in which Bosh makes at least half of his shots this postseason. They've won the past 29 games in which Bosh shoots 50 percent or better.