A circular firing squad in Phoenix. Chris Paul leaves defenses running in circles. Quin Snyder comes full circle in Austin. Circle the wagons with the TrueHoop Network: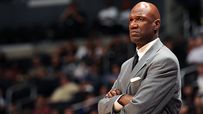 Michael Schwartz of Valley of the Suns: "This is not how the Suns wanted to celebrate their All-Star Game, with nary a mention of Steve Nash or Mike D'Antoni, but with Craig Sager asking everyone from Shaq to presidential runner-up John McCain what they thought of the imminent Porter firing that the team has yet to announce, a question Shaq termed as 'unprofessional' for the occasion.
Knowing how news like this always seems to leak, the Suns probably would have been better off just firing Porter on Thursday if this was what they were planning all along.
Obviously they wanted to prevent it from becoming a focus of the weekend, but by vehemently denying the rumors that apparently are about to be proven true, the state of franchise limbo the Suns were in with everybody wondering what the hell was going on was even worse."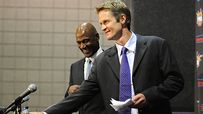 Matt Moore of Hardwood Paroxysm: "The problem is that this club was made of veterans, who are ready to win now. They don't need to be pushed, prodded, or bullied. Even Amare, who could use tough love, needs it within the context of a relationship he trusts, not a bully sent in to shove him around...
It wasn't Porter's fault that he didn't do what he needed to, or that he did it badly. He was brought in to do something that wasn't going to work regardless. Porter could have taught a young team to walk before they run, but the Suns were ready to fly. And in the confusion they crashed and burned.
...[Steve Kerr]'s got a great basketball mind and may even have a tremendous mind for basketball business.
None of this changes the fact that he has completely submarined the Phoenix Suns franchise and is now spreading the blame. That Porter was ill-equipped to lead this team isn't his fault, it's the fault of the person that chose a drill sergeant for a general's job. Kerr not only sacrificed this team's soul, he led it to the dungeon to chain it. Everything has been driven off of the Kerr Defensive Concept."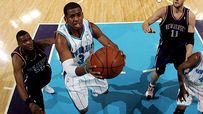 Ryan Schwan of Hornets247: "Chris Paul relishes contact, lapping it up like LeBron James laps up media coverage, and he's been that way since his rookie season. I can remember in his first game against Houston, he was dribbling up the court in front of Yao Ming, spotted the lumbering giant out of the corner of his eye, and smoothly took a step directly in front of the big man and decelerated. Yao went down like a poleaxed cow as he tripped - and pretty much crushed Chris Paul under him. A moment later, Paul popped up, a foul was assessed to Yao, and Paul was on the free-throw line. Good times.
Paul still uses this tactic. In the open floor, he frequently slides over in front of a guy trying to get up the court quickly, stopping them from getting to their cover. This is not, however, a tactic you'll see very often from another player because of the turnover risk entailed: If there's contact and no whistle is called, it's hard to keep a handle on the ball.
Paul, of course, has one of the best handles in the game. Even when he gets bumped hard, he's mastered this odd little jump where he leans way forward and dribbles straight down. Since the ball isn't moving any direction but down, the ball comes straight back to him, and can't squirt free, while the jump aids in drawing whistles. It's a great move.
This year, however, Paul has adapted the move so that he doesn't use it solely in the open floor any more. It's now become a dangerous part of his Pick and Roll game..."
THE FINAL WORD
Celtics Hub: A stroll through the C's draft history.
48 Minutes of Hell: What Quin Snyder's been up to.
Raptors Republic: Sizing up the Marion-O'Neal trade.
(Photos by Noah Graham, Barry Gossage, Chris Graythen/NBAE via Getty Images)