Oh man. These next few hours are going to be fascinating.
After learning, from Chad Ford and J.A. Adande's reporting, and a flurry of phone calls, that the Spurs, Rockets, and Blazers are reportedly in the hunt for Vince Carter, I fell asleep last night thining about the Net with the big contract.
One point you can't deny: The Spurs, Rockets, and Blazers are three of the stat-geekiest teams out there. If they're the ones lining up to pay Carter's massive salary in his waning years, they must see something special.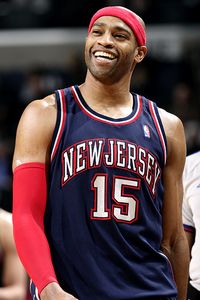 When it comes to statistics, there are two kinds of teams: Teams that have started building their own statistical databases, based on "Moneyball" type factors that they chart themselves, and teams that have not. These three are, by all appearances, ahead of this curve.
The Rockets' position in this group hardly needs justification.

The Blazers have had their own database for a while, and have consulted with people like Jeff Ma. But recently, they contracted with Justin Kubatko of Basketball-Reference, who is the undefeated two-time champion of the TrueHoop Stat Geek Smackdown. Kubatko is one of the smartest minds out there, and now he's informing Portland's decision making. (Serious concern for me: Will the Blazers keep Kubatko from defending his crown?)

The Spurs are pretty secretive, but did recently advertise a position for a programmer to support a database of basketball statistics, so you have to believe they're in the club, too.
So, what do these teams see when they look at Vince Carter?
Hard to know.
But after consulting with a half-dozen statistical experts from around the NBA, here's what I can tell you:
Vince Carter is an elite offensive player right now, and has been for a long time. He has a PER that is over 20, which puts him 25th in the whole NBA, and behind only Dwyane Wade, Kobe Bryant, Brandon Roy and Manu Ginobili at his position. His PER has actually improved since last year, likely as a result of some of letting Devin Harris bail the Nets out of tough possessions, instead of having to do everything himself.

In terms of adjusted plus/minus, courtesy of Basketball Value, he has been a top 40 NBA player over the last two years, and is currently at about + 5.6. From Michael Lewis' New York Times article about Shane Battier and Daryl Morey: "For his career [Battier] is a plus 6. 'Plus 6 is enormous,' Morey says. 'It's the difference between 41 wins and 60 wins.' He names a few other players who were a plus 6 last season: Vince Carter, Carmelo Anthony, Tracy McGrady."

What about defense? Adjusted plus/minus is the only objective public metric that really even pretends to factor in total defensive effect. And that Carter does well there is telling. But there are people who chart aspects of defensive efficacy privately, and sources with access to those metrics say that, despite his reputation, Carter has been a pretty good defender, although he is slowing with age.

I'll throw into the mix here that over the course of his career, I have had long conversations with Carter's high-school coach, his mother, David Thorpe (who saw Carter play starting at summer camps in high school), and Carter himself. Everyone is convincing when they say that Vince Carter is a sincerely nice guy. That has been seen as a drawback, when he is cast as a leading man/would be gunslinger. But now that it may be time to take a back seat to a star like Yao Ming, Tim Duncan, or Brandon Roy ... maybe that's not so bad. I haven't heard him complaining about Devin Harris' time in the sun.

Vince Carter is a real shooter. As in, a guy who, left open, will efficiently punish opponents with made shots. Ask any middle-aged guy at your local Y: This is one basketball skill that persists even as athleticism wanes.

Thorpe adds that it's a myth that Carter can't handle crunch time. He has great anecdotes, which are supported by research at 82games showing Carter's making 49% of his shots in crunch time this season, and is 12th in the NBA in points per crunch time minute.
Among NBA fans, it's not hard to find people who criticize Vince Carter -- most notably for once admitting that he didn't play hard for some of his time in Toronto. But he has no such critics among statistical experts. I can't emphasize enough that every stat person I talked to was very clear that not giving up a lot of talent, but adding Vince Carter to your team, would absolutely make any one of these three teams much better this year. (The deal that nobody loved, even in the short term, was some rumored combination of Ron Artest, Carl Landry, and Shane Battier, as that involves giving up a lot.)
Their thinking is along the lines of Morey's in that quote: A good team could become an elite team thanks to his presence. And there are nice things to say about the likelihood he'd be willing to play second fiddle.
So, that's all the good news.
The bad news is simple, and potentially a deal-breaker: At 32, he is old, especially for one of the NBA's athletic positions. Statistics show players of his age, at his position, are universally in decline. But what kind of decline? There are studies, but they are tightly held by teams. Players with Vince Carter's profile can drop off a cliff of productivity. (See Stackhouse, Jerry.)
And remember, run all that through the filter of a 2009 financial crisis, when being lavish with cash can be a problem for more than just the salary cap. So, when does that drop in productivity begin? For 2010-2011, that's the $17.6 million question. (And Carter is not even a free agent after 2010-2011 -- but can be bought out of the remainder of his contract for $4 million. This is important as it dilutes, his value on the trade market as an expiring contract.)
Some insight comes from Kevin Pelton, who shares that the historical NBA players with statistical profiles most similar to Carter's are Rolando Blackman, James Worthy, Alex English, Walter Davis, and Reggie Theus. In the year he turned 33, Blackman saw his own PER (once a shade under 20) drop from 15.6 to 10.6. Then he retired.
Worthy's, in the year he turned 32, had dropped to 12.8, and then he retired.
Reggie Theus had a similar pattern, with a PER of 15.9 at 32, 14.2 at 33, followed by retirement.
So those case studies would argue strongly that Vince Carter is due to stop being productive any day now. But then consider Alex English and Walter Davis. They both played until the year they turned 37. At 33, English had a PER of
20.5, and it stayed 19 or higher until he was 35. At 33, Davis's PER was 17.8, followed by 16.7 the following years.
If Carter is on that plan, things would look a heck of a lot sunnier.
David Thorpe, for one, thinks whichever team gets Carter will get this trade season's big prize. Stats or no stats, Thorpe says Vince Carter is worth the price.
"If the Spurs, Rockets, or Blazers get Vince Carter without giving up much," he says, "they join the Lakers right there as the favorites in the Western Conference."
He goes on to describe Carter at length as a Dean Smith-coached superstar with a basketball IQ so high he could succeed with any teammates and in any system. Thorpe says Carter on the Spurs would make San Antonio his pick to win the championship. "Gregg Popovich," he explains, "must be salivating at the thought of Carter helping the Spurs pulverize opposing defenses."
Carter, Tony Parker, Tim Duncan, and Manu Ginobili all get to the rim, he points out. While in a potential Finals matchup with the Cavaliers, the presence of Carter -- who can post up, slash, and shoot from the wing -- would make LeBron James play serious defense at all times. Thorpe adds that in the playoffs, it's tougher to get to the free throw line, but Carter is skilled enough to score anyway.
It could be a great time to buy, too, says Thorpe.
"This is like Kevin Garnett or Ray Allen going to the Celtics last year," says Thorpe. "They have played on some so-so teams, and they're getting older. This is their chance. This is it. Whatever criticism of being selfish or not playing hard ... none of that is going to apply. You're happy to be part of a team, to defend hard. You don't care how many shots you get. You're just happy to get a shot at that ring, and will do whatever it takes to get it."
(Joe Murphy/NBAE/Getty Images)