Strangers were high-fiving each other in the streets in Oklahoma City. All was swell.
And then ... Tyson Chandler fails a physical and the fun's over.
Royce Young of the Daily Thunder:
Everything we were just getting so psyched about is gone. The "fearsome foursome" talk. The new nicknames. The optimism. Zapped. Gone. See ya. Well, the optimism isn't entirely gone because we're still on track with KD, Uncle Jeff and Russell, but the immediate optimism took a hit.

I have no idea what could be the reason this thing was ripped, but it's got to be something with Chandler's ankle. Maybe there's long term damage in there. Who knows. And who knows if Sam Presti will be back on the horn tonight trying to swing another deal at the deadline. All I know is that my head's spinning.

I think I speak for everyone when I say, this sucks. And I mean that in the nicest way possible Joe Smith and Chris Wilcox.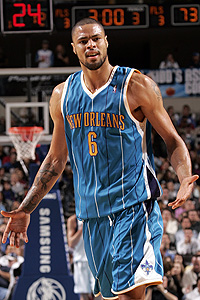 In New Orleans, the Tyson Chandler mourning period was just winding to a close. Ryan Schwan of Hornets247 had been pointing out that, despite his bitterness at seeing Chandler go, there was no arguing the center was having a bad year.
I think I've wallowed enough now. I'm not going to rip Shinn or Bower in this post. I'm not happy with what happened, but I don't have anything to say about it that hasn't been said in a dozen other places. It's time to move on and get to what we received and how it impacts the team. In other words, it's time to take refuge in numbers.

The first thing you have to remember is that Chandler, when he wasn't missing games, was actually playing fairly poorly. Chandler has only been in double figures in rebounding 13 times all season, he's missed 18 games, and his offense has been down and he's only been in double digit scoring 16 times this season. His rebounds per 40 minutes have been the worst he's ever averaged -- even worse than his rookie year. There have been a lot of reasons given for this -- his baby being born, his family being in California, his earlier knee injury -- but the fact remains, he's been having a terrible, terrible year.
Now Niall Doherty of Hornets247 writes:
I'm not sure. I'd like to throw a party to celebrate this, but OKC aren't sending Tyson back for no reason. Remember, they're not playing for anything this season, so they must feel that the injury is something that will affect Chandler's play beyond the next few months.

Best case scenario, the Thunder are being overly cautious and Tyson will be healthy and ready to help the Hornets make a good playoff run this season. Then we can worry about shedding salary in the summer, or perhaps put together a more fan-friendly trade before tomorrow's 2pm Central deadline.

Worst case scenario, Tyson has some serious health issues, meaning he can't help us on the floor and we're stuck with his contract. Then we might have to settle for a real ugly trade to avoid paying the luxury tax next season.
Now we learn a few things. For one, that it might be a tad awkward for Smith, Wilcox and Chandler to head home -- their teams just celebrated their departures!
And don't you think the Hornets wish, now, that they would have admitted the trade was about money? Instead, they told everyone they really wanted Joe Smith and Chris Wilcox. But hey, Tyson, buddy ... we didn't really mean that.
I wonder if perhaps we also learn a little something about why the Hornets may have been willing to make a lopsided trade. Not that they were trying to dupe the Thunder, but if the medical staff has long-term worries about Chandler, then that might be one more reason to make a move.
And while Thunder fans are the ones hanging their heads tonight, I wonder whether it isn't Hornets fans who find themselves in the bigger pickle. Now we know the Hornets -- a team on delicate financial footing -- are likely to be spending more than they think they should, and a lot of that will be going to a big man who has some kind of long-term health concerns. And even with a healthy Chandler, the Hornets needed another quality big man. The future was annoying after the cost-cutting trade that would cost the team a year of contention. But now, with money and health problems, the joy of Chandler's return has to be laced with a couple of profound new worries.
Peja Stojakovic, anyone?
(Photo: Glenn James, NBAE/Getty Images)