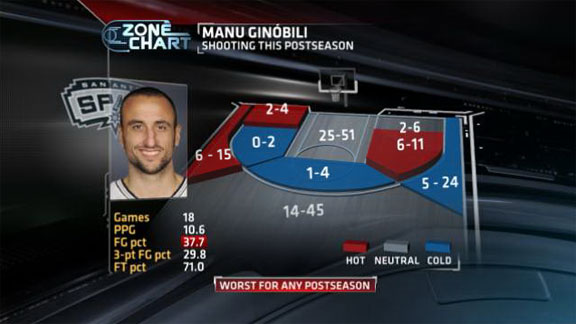 Manu Ginobili is struggling all over the court in the postseason.Following their 109-93 home loss to the Heat on Thursday, the Spurs enter the pivotal Game 5 of the NBA Finals looking for answers. One of their concerns is the lack of production they've received from guard Manu Ginobili.
Manu Ginobili Lowest PPG
In Single Round In Postseason Career
Ginobili has struggled throughout the postseason, averaging only 10.6 points a game, his lowest output in a single postseason since his rookie season in 2002-03 (9.4 PPG).
What makes matters worse, his production has taken a further dip when the Spurs can least afford it.
In the first four games of the Finals against the Heat, Ginobili is averaging only 7.5 points, including matching his 2013 postseason low of five points on 1-for-5 shooting from the field in Game 4's loss.
Ginobili has played in 29 postseason series, but it's this one that ranks as his lowest for scoring average. Let's look at a few stats related to how this has played out.
Shooting struggles
After shooting only 42.5 percent from the field in the regular season, which ranked as his second worst in a single season in his career (41.8 percent in 2003-04), Ginobili's stroke from the field has suffered an even further decline in the postseason. The former NBA Sixth Man of the Year is shooting 37.7 percent from the field and 71 percent from the free throw line, both career postseason lows.
Factoring in all his shots, Ginobili's true shooting percentage this postseason is 50.5 percent, well below his career postseason average of 57.9 percent. (True shooting percentage measures a player's shooting efficiency taking into account 2-point field goals, 3-point field goals and free throws.)
His true percentage of 44.9 in the NBA Finals against the Heat is his third lowest in a single postseason series in his career.
Spurs faring better with Ginobili on the bench
Perhaps one of the adjustments Spurs coach Gregg Popovich could consider is decreasing Ginobili's minutes even further, despite his 24.3 minutes per game in the Finals being down from the previous two rounds.
San Antonio Spurs In 2013 Finals
With Manu Ginobili On/Off Court
Popovich has already used Ginobili less this series, as the two-time NBA All-Star has recorded a usage percentage just under 20 percent in the Finals. His usage rate has declined in each series this postseason. (Usage percentage is the percentage of team plays used by a player when he is on the floor.)
The Spurs have been ineffective with Ginobili on the floor against the Heat. With Ginobili on the court, San Antonio has been outscored by Miami by 36 points, compared to outscoring the Heat by 41 points with Ginobili on the bench. Ginobili's plus/minus of -36 is the worst by a player on either team in this year's Finals.
San Antonio has most notably seen a decline in its offensive production with Ginobili on the court, as you can see in the chart on the right.
Ginobili not effective in pick-and-roll
Throughout his career, Ginobili has been one of San Antonio's best ball handlers attacking from the perimeter.
During the 2012-13 regular season, Ginobili was used as a pick-and-roll ball handler more frequently than any other type of play. He was solid in that role, averaging 0.82 points per play.
In the Finals, Ginobili has run 11 pick-and-rolls ending in a score, miss or turnover and has turned the ball over as often (four) as he has scored (with one basket and four free throws).
Did You Know?
The Spurs haven't lost consecutive games in which the Big Three of Tim Duncan, Tony Parker and Ginobili all played since Dec. 12-13.