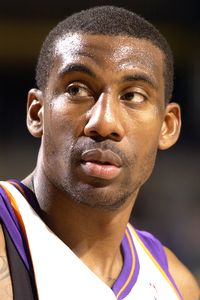 Poor Amare Stoudemire.
That's my main thought, after bringing together two ideas: A brief report on what he has been through, and extensive conversations with others who have been through similar things.
First of all, some background. On Suns.com the situation sounds like this:
Phoenix Suns forward Amar'e Stoudemire underwent successful surgery today to repair a partially detached retina in his right eye. The procedure was performed earlier this morning by Dr. Pravin Dugel at Spectra Eye Institute in Sun City, Arizona.

"We are very glad to hear that Amar'e should have a 100 percent recovery relative to his vision and his long-term prognosis is excellent," said Suns President of Basketball Operations and General Manager Steve Kerr. "Obviously, it is very disappointing to lose him at this time. We are all very excited about the progress the team is making, but Amar'e's health and the health of all our players is our number one concern."

Stoudemire's return to physical activity is estimated at eight weeks depending upon his healing process. Dr. Dugel stresses that recovery varies on a case-by-case basis.
There is a little bit of a backstory, too. Stoudemire was poked in the eye by Boris Diaw during training camp, and had been wearing goggles to prevent further injury. In mid-November, Jerry Brown of the East Valley Tribune wrote about Stoudemire's decision to ditch the goggles, which had been fogging up.
"I went with them for a while, but now I'm trying to get comfortable without them," Stoudemire said. "It's not a medical thing now that the (torn) iris is perfect, so then it came down to comfort and I was having problems with blurriness from sweat and getting a good fit. Enough was enough.

"The chance of another injury is there, but I'll be working off faith."
There's no telling if wearing goggles would have saved him from this injury -- it has been reported that it may not have helped at all. But that has to turn your stomach a bit, doesn't it?
Of course, with every injury, every case is different. Stoudemire is young and healthy, and it sounds like his surgery went very well.
With that in mind, here are three stories from people who play basketball, and have coped, in one way or another, with retina injuries. The good news it they all got back on the court. The bad news is that the process was a major challenge.
Learning to Live with Blurry Vision
Dave Bing (who is a few days away from the primaries in his bid to become mayor of Detroit) played much of his NBA career with blurry vision. Recently, David Friedman of 20 Second Timeout told the story like this:
The Pistons seemed poised to have a good season in 1971-72: Bing was coming off another All-NBA First Team selection, second year center Bob Lanier was about to become one of the league's top players and the Pistons had narrowly missed the playoffs in 1970-71 despite posting a fine 45-37 record. These hopes came crashing down when Bing suffered a detached retina in his right eye during the preseason. "The team of doctors basically asked me not to think about playing again-but at the age of 27 and the top of my career, I never gave that a second thought and I was able to play another seven years," Bing says. "I wasn't the same player. I think that I became a better all-around player but never the prolific scorer that I was before that injury. I had to play the last seven years of my career with blurred vision, basically, in both eyes." He missed a total of 37 games and the Pistons' record plummeted to 26-56.

Bing found a silver lining in his plight: "I had to concentrate more on other phases of the game and I think that's what made me a better all-around player. I wasn't the scorer that I had been prior to the eye injury but I think that my assists went up, my free throw percentage went up and I became better defensively and I think that just because I couldn't see as well and shoot as well that I focused on other parts of the game." He shot over .800 from the free throw line for three straight years, a level of accuracy that he had never achieved prior to having the detached retina, and Bing had four of his five best apg averages after suffering that injury. How did he improve his free throw shooting despite his vision problems? Simple -- free throw shooting is different from field goal shooting because it involves a fixed target and there are no defenders, so just by improving one's concentration and mental focus one can shoot quite accurately from the free throw line even if the rim looks a little blurry.
Two Surgeries Down, Two More to Go
What started as a partially detached retina for ESPN.com NBA editor Chris Ramsay is, more than two years later, still full blindness in one eye.
"Woke up one morning," he explains, "just after Christmas 2006. Had half vision in my left eye. It was like garage door had been drawn halfway down. There was no trauma, that I know of. I had a partially detached retina."
He still can't see in his left eye. He's soon to undergo his third and fourth operations. He recalls that after the first surgery, he had a couple of tough problems.
The first was the doctor's instructions to essentially keep his head down "as in, literally having your forehead on the table, not moving." For a week.
Walking around normally is banned. Sitting up normally is banned. Even sleeping normally is banned. Instead, you sleep on your stomach, with your head off the edge of the bed, held in a special device not unlike what is attached to most massage tables.
The worry is that moving your head really at all can reduce the likelihood that the retina will reattach. So stay super still for days on end. No exercise, no sudden movements, no nothing.
Then reconcile that with this reality: "When you open the eye up to operate on it," he says, "it can really throw off your balance and your equilibrium. That really upsets a lot of things, including your stomach. A lot of people puke their guts out for a couple of days after the surgery."
Did Chris?
"Yes."
Brutal.
And through it all, there is never any way to know how well anything will be fixed. Some have excellent results. Many do not.
Ramsay explains: "Once the retina is reattached there are no guarantees that your vision will be 100 percent restored. After surgery, you might see some unusual things. Blind spots were very common. You might look for something that is right in front of you and not see it. I remember looking, looking, looking for my ball on the golf course ... and then finally spotting it ... three feet from where I was standing.
"There are other phenomena such as strobe lighting (like on a dance floor), flashing (like police cruisers), venetian blinds (looking through partially drawn shades) and the 'Predator' Effect. That's when you see objects or just clear outlines of those objects. It's like in the movie 'Predator,' when you can see a clear outline of the alien, but not th
e alien himself. Eventually the eye settles down and the brain adjusts."
Ramsay, son of Dr. Jack Ramsay, has been a basketball player all his life. Needless to say his retina adventures have not helped his game. "Naturally, you're more prone to miss an open teammate or not see a pick coming. This can lead to collisions and even more injuries," he says. "Can you say chipped teeth?"
One of the things Ramsay says he has had the most trouble with is straight out of Amare Stoudemire's playbook: "Cleanly catching a hot pass while running at top speed on the fast break is a real challenge. There have been a lot of fumbled catches and jammed fingers from not being able to get hands up to catch in time. This can really deflate a player and lead to a loss of confidence. But, like with any injury you might have to change your game to keep playing. You develop new tools, sharpen some old ones and keep playing. Might be at a lower level, but you got to keep playing."
A Slow, but Full, Recovery
My friend Randy didn't detach his retina. Instead, in a basketball incident, he got some tears in his retina, which his doctors believed could become a partially detached retina.
"After the initial surgery," he explains, "not only could you not exercise or do anything active, but they didn't want me to do anything that would make my eye move too fast. Like reading! Apparently your eye across the page is very rapid movement. Reading with a bad retina is like running with a bad ankle. So the thing you can do is something I hate to do, which is watch TV. It's all you can do.
"I had that for six weeks. Then I had another series of surgeries, for more tears that developed somehow. Then six more weeks of watching the 'Gilmore Girls.'"
His mood, he says, was bad. "I'm not sure how it could have been worse. I'm very active and exercise a lot. I love to read. And I enjoy my work. I really couldn't do any those three things. I had to find other ways to work -- mostly by phone -- just to keep myself from feeling completely worthless. It was pretty distressing."
The good news is that Randy has had a near full recovery -- his only remaining symptom about a year later is the occasional "floater" obstructing his vision, but even those have dissipated. And now he plays basketball with goggles.
"I understand why Amare didn't like wearing goggles," he says. "I don't like goggles. They're hot. They hurt your peripheral vision. They fog up. All that. They're not great. But they're a must."
(Photo by Barry Gossage/NBAE via Getty Images)
TrueHoop reader Chris Wojciechowski e-mails his own story:
Like Chris I lost vision in one of my eyes, although mine was the direct result of trauma to the eye. In 2005, I was working midnights in Toledo, Ohio (my home town) and after work one night I was driving through down town on my way to the highway. To make a much longer story fairly short: I was carjacked at a red light, had a pistol punched through my left eye. My iris was lacerated and my retina was ruined. I was forced to take a year off from college because I didn't believe I could handle traveling back and forth for the surgeries I had to undergo to save my eye.

It would have been very easy to simply lay down and let myself wallow in self pity but I found a definite way to save myself from self pity: sports. It took me nearly a year to get back on the basketball court with regularity (and still haven't been back on a softball field), but I immediately went back to the disc golf course and began to work on overcoming my new handicap. Getting back on the disc golf course (and eventually the basketball court) has been one of the best decisions I could have made. It has helped me adjust to the lack of depth-perception, I learned to use new methods to judge distance (scanning the amount of ground between myself and an object) and it kept my spirits up when I felt incredibly frustrated with headaches and the cosmetic change (my iris looks like an extension of my pupil now).

It has been a long time coming but I'm back to playing full speed on the basketball court, I play open division disc golf, and I'm confident and happy as a person. Without sports I certainly wouldn't be on the verge of finishing school and getting out into the real world at this point in time either.