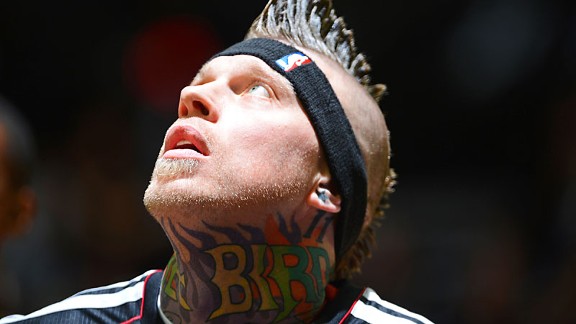 Garrett Ellwood/NBAE/Getty Images
The Heat have been good with Chris Andersen on the court.Why hasn't Chris Andersen played since Game 3?
That's what I have been wondering. He's a big dude with -- it would seem -- the ability to hinder those Tony Parker and Manu Ginobili drives that have been causing so much trouble for the Heat. LeBron James and Dwyane Wade are good at getting the ball into the paint, where Andersen is good at turning touches into buckets.
Andersen is shooting -- wait for it -- 82 percent in the playoffs and 78 percent on 7-of-9 shots in these Finals.
There are two theories explaining Andersen's benching:
Tim Duncan abused him in the post.

The Heat have been good playing small, for instance with Mike Miller taking Birdman's minutes.
So, thanks to the media version of NBA.com/stats, I dialed up all of Duncan's shots in the paint in this series, and assessed:
Duncan has attempted a grand total of one shot against Andersen. It came in the second quarter of Game 1, when the big Spur backed Birdman deep into the paint, turned and scored easily with a little up-and-under move.

As it happened, ESPN's Jeff Van Gundy said, "Chris Andersen brings great energy, but Tim Duncan can do work against him in the low post." An idea was born. Only, as it happens, Duncan has yet to do that work. Just for fun, I went back and looked at several recent years of these two facing each other, which hasn't happened much. Duncan has been his typical self against Andersen -- some years shooting better than average with Andersen in the game, some years worse.

Andersen is best off the ball, including against Duncan. As a counterpoint to the idea that Andersen loses that matchup, consider this: In Game 1, at one point, Duncan found himself with excellent post position guarded by LeBron. Andersen threatened to help. Whether it was the threat of James, Andersen, or both, Duncan -- one of the best short-range shooters in NBA history -- missed a short jumper off the top of the backboard.

The Heat lost Game 1 at home, and change was inevitable. Birdman has played 36 total minutes in the series and none since Game 3.
The Heat are pretty good against the Spurs with Birdman in: plus-9 over 36 minutes. They are also good with Miller in: plus-34 over 101 minutes. They are also good with both in: Perhaps Miami's best run of the series came in Game 2, when for the key stretch, it was LeBron, Miller and Andersen with Ray Allen and Mario Chalmers. That lineup rattled off 22 points in seven minutes, while giving up a mere five.
There has been that one-bucket hint, but certainly no trend, that the Heat are abused while Andersen is on the court.
Put it all together, and I don't know that we can say with any certainty that Birdman must play. But without a doubt, he should be considered. He is a well-rested, highly effective and energetic big man with good hands, and the Spurs have shown no signs of "solving" him.