Injuries to Kevin Garnett and Amare Stoudemire open up opportunities for Rajon Rondo and Matt Barnes. Delonte West's return opens up the Cleveland offense. David Falk just plain opens up. Open your NBA week at the TrueHoop Network: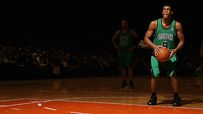 Zach Lowe of Celtics Hub: "I've said it before, and I'll say it again: Rondo can shoot jump shots much better than he did earlier this season. He shot about 50 percent on two-point jumpers in the playoffs last year, and he appears to be much more comfortable shooting off the dribble.
I'd like to see Rondo continue to take advantage of his quickness–and the fact that defenders give him space–by taking more of these pull-ups with KG out. He's going to face some better defensive point guards in the next ten games, though none of them are elite.
He'll face a couple of guys who are a little taller (Baron Davis and Chauncey Billups), and a few who are about as quick (Devin Harris, Derrick Rose and T.J. Ford). But none of these guys are world-beaters on defense (at least according to the numbers on 82games and BR).
I also expect to see one or two ill-advised takes to the rim each game in the next two weeks. I can live with that.
But it will be very interesting to see if Rondo continues to test that pull-up jumper. One of the good things about having a key guy injured is that other players get to push themselves and extend their roles on both sides of the court. Who knows? Maybe Rondo will have to take a pull-up jumper with the clock winding down in a playoff game. Might as well start getting ready now."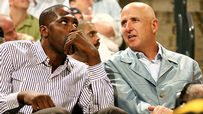 M. Haubs of The Painted Area: "The Bald Truth covers all of Falk's most famous NBA deals, from the groundbreaking Air Jordan deal with Nike in '84, to Patrick Ewing's rookie contract with the Knicks in '85, to Danny Ferry's controversial move to shun the Clippers for Italy as the no. 2 pick in '89, to $100M contracts for Zo and (very controversially) Juwan Howard in the mid-'90s, all the way up to the Brand squabbles from last summer. There are indeed business lessons to be learned which are offered up at the end of each chapter, but that kind of stuff really seems to be kept to a minimum.
All in all, The Bald Truth looks like an interesting document of the basketball times, with behind-the-scenes tales from one of the game's most powerful figures, involving negotiations and deals for some of basketball's biggest stars, in an era when sports business and marketing were being revolutionized. Many may be put off because it's really just a bunch of stories about outrageous amounts of money being thrown around. We enjoyed the perspective and observations of an insider. Of course, there's *a lot* of David Falk self-aggrandizement over the course of the telling of tales; it's not at all surprising, just something the reader needs to keep in mind."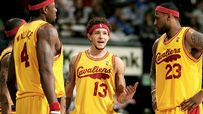 John Krolik of Cavs the Blog: "This team at full strength is something to behold. Delonte is so vitally important to this team. Of course hitting all five of your threes is a very, very good thing, but Delonte is so much more than a shooter -- it's the way he knows how to get himself set up for those triples, the way he moves the ball from side-to-side, how the ball never stops, everything. Delonte's just great to have back.
When you have three playmakers (and Ben moves the ball, too), and that many shooters and add it to guys who can drive, all of a sudden you have a dynamic offense that can make a play from anywhere on the floor and the defense can't load a side up. That extra playmaker to start plays and shooter to finish them can make all the difference, and Delonte fills both sides of that equation. No deadline acquisition would have been better for this team than Delonte coming back..."
THE FINAL WORD
Celtics Hub: A leading orthophedic surgeon educates Zach Lowe on KG's posterior knee strain.
Valley of the Suns: Matt Barnes is the man on the spot in Phoenix.
Daily Thunder: A two-part look at the Thunder's menu of options at the shooting guard.
(Photos by Nathaniel S. Butler, Garrett Ellwood, Doug Pensinger/NBAE via Getty Images)