The Hawks can't switch on defense to save themselves. Let's switch up the playoff format. Switch Brian Scalabrine for Kevin Garnett to no ill-effect?! Flip the switch at the TrueHoop Network: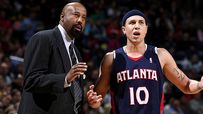 Bret LaGree of Hoopinion: "...Mike Woodson seriously diminished the Hawks' chances of winning in Utah when he decided that, defensively, this team would spend the season switching on every screen. It's a functional strategy against teams with a limited number of offensive options and/or little off-the-ball movement. Against Utah it essentially rendered the Atlanta defenders stationary, calling out switches but never moving their feet as the Jazz players ran their offense without interference.
It's an odd, passive choice for a team that has an admitted problem with playing hard. Certainly, in general, some ground must be ceded in deference to Bibby's defensive limitations in order to reap the benefit of his offensive talents. I don't believe this to be any sort of platonic ideal of a defensive basketball team but they haven't been challenged to become a better defensive team. In the terrible home loss to the Clippers, Acie Law IV got chewed out by Woodson and Marvin Williams for screwing up a defensive possession by having the temerity to try and fight through a ball screen. A blown assignment? Yes. An example of a young player trying to earn more playing time by giving extra effort? Yes, also, but his effort was viewed primarily as disruptive rather than positive. A small moment, to be sure, but one that has obviously stayed with me for more than two weeks."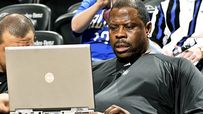 Mike Kurylo of Knickerblogger: "This week marks the 5th anniversary of KnickerBlogger. When I started this venture, I didn't imagine it would last this long. Five years ago, blogging was still in its infancy. There were less than 2 million blogs when KnickerBlogger came into existence. Just six months after, the number of blogs had doubled. Today it's unknown how many blogs there are. One estimate is 200 million. Many of them are powered by individuals like myself.
More important than the number of blogs is the role they perform. Once derided by the mainstream media, just about every newspaper, magazine, and network hosts their own blog. They are now an essential part of the world's information and entertainment. Blogs fill an important niche in the world. Previously the only avenue for the common man to voice his opinion was through those who held the keys to kingdom. Often his voice was not heard by the public. Blogs have taken the words of the everyman and projected them from the world's tallest soap box.
Five years ago my goal with KnickerBlogger was to create a platform for those who felt their opinion was not represented in the mainstream. Judging by the other readers who come here to share their thoughts and my affiliation with True Hoop Network that allows me to bring these voices to the mainstream, it seems that I have succeeded. I can only wonder what KnickerBlogger will be in five more years."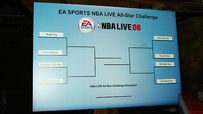 Matt Moore of Hardwood Paroxysm: "The eighth spot in the East should be a tournament. It would be a three-day tournament held the week before the playoffs. The runner-up gets an extra 4% in the lottery. And it would be some of the absolute best basketball you're going to see this season. I don't envy the college game for the randomness of March Madness, I love the assuredness of the Association's championship system. There's no doubt at the end of the season that the champion has earned it and deserved it. You can debate a team was better but the sample size is sufficient to provide legitimacy. But for the East's eight spot? Who cares about legitimacy? We're all aware that no team is surviving playing three days in a row, then having to turn around and travel for a seven game series against the best team in the East. But it would be terrific ball. Derrick Rose versus Deven Harris. Villanueva versus Harrington. The Raptors bizarre mutation versus the composite Bobcats.
This is logistically impossible, and impractical to the nth degree. But I say it because you should know that under your nose, as the rest of the League rots in the downturn, carrying out the same pattern that's been set, there is a shimmering pool of imperfect, incredible basketball happening underneath your local stations."
THE FINAL WORD
Hornets247: Welcome back, Tyson Chandler.
Celtics Hub: No KG, No problem.
Roundball Mining Company: The Nuggets are looking weary.
(Photos by Gary Dineen, Fernando Medina, Ray Amati/NBAE via Getty Images)