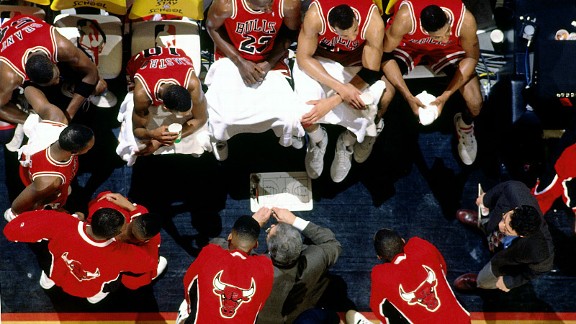 Brian Drake/NBAE/Getty Images
The most successful coach in history says the calmest team usually wins.A few years ago, Justin Rao and Matt Goldman presented research about how players perform in big moments. Rao's mom, as it happens, is an expert in psychology. With some advice from her, Rao and Goldman separated the tasks of a hoops game into categories that have emerged in brain research: Things that require quiet concentration (like shooting free throws), and things that require exertion and effort (like offensive rebounding).
In a nutshell, they found exactly what psychologists would have expected them to find: That special efforts -- Game 7 kind of efforts, along the lines of "wanting it more" -- help with those exertion-based tasks like rebounding.
But those same special efforts hurt performance when doing things that require a quiet mind. The key finding was that in big moments, it's the home-team players who tend to miss free throws as the pressure mounts. For the road team, it's routine -- all those people screaming want you to lose. The home players, though, they are wired to want so badly to delight those 20,000 fans sitting so close and quietly. That special big-moment urge to do even better than normal keeps the players from calmly stepping to the line like it's the most normal thing in the world.
There's a war in the heads of players -- between trying especially hard in a big game, and telling yourself this is just another game.
It's not so hard to figure out where the most successful coach in NBA history comes down. In his new book "Eleven Rings," Phil Jackson discusses his first Bulls title team:
At that time most coaches subscribed to the Knute Rockne theory of mental training. They tried to get their players revved up for the game with win-one-for-the-gipper-style pep talks.

That approach may work if you're a linebacker. But what I discovered playing for the Knicks is that when I got too excited mentally, it had a negative effect on my ability to stay focused under pressure. So I did the opposite. Instead of charging players up, I developed a number of strategies to help them quiet their minds and build awareness so they go into battle poised and in control.
In other words, Jackson found the exact same thing as the researchers. And it all flies directly in the face of the dominant theory of today's Game 7, that LeBron James must go out there like a fired-up linebacker, looking to lay waste to everything in his path.
Indeed, one of the more memorable tales from Jackson's book is of an intervention to stop Michael Jordan when he was in that mode. Jordan was making one foray into the lane after another in the 1991 Finals -- exactly what they say is called for from James -- but in doing so Jordan was attacking double- and triple-teams, exhausting himself, and passing up open shots for teammates. These are the kinds of mental mistakes Jackson associated, in his playing days, with getting "too excited mentally."
In a timeout, Jackson remembers simply asking Jordan "who's open?" This was a reminder of the normal way to play basketball. The routine. The basics. The things Rao and Goldman found were better approached without special effort. Jordan went on to make calm, routine passes to the open player. Unguarded John Paxson sunk four routine shots. The Bulls won a title ... which also became routine.
Jackson says that the Bulls teams got really good only when they really honed their ability to keep calm. Of his 69-win 1997 team, Jackson writes:
Michael was more relaxed and settling into a less energy-draining style of play, with more medium-range jumpers and less one-on-one aerial theatrics. But most of all the players had the look of champions. No matter what calamities befell them, they felt confident that they would find a way to deal with them together. There's a Zen saying I often cite that goes, "Before enlightenment, chop wood, carry water. After enlightenment, chop wood, carry water."

The point: Stay focused on the task at hand rather than dwelling on the past or worrying about the future.
"Energy-draining" is a key reason for a player not to go into a game determined to go all out from the opening tip. The key Spurs and Heat players in Thursday night's Game 7 almost all know this first-hand. Tony Parker sat out the biggest offensive possessions of the Spurs' season -- the end of Game 6's overtime -- with no gas left in the tank. LeBron -- who was once carried off the floor of a close Finals finish with cramps (a common way for exhaustion to manifest) -- says he asked for timeouts in that game for the same reason.
Indeed the player who dominated the end of Game 6, the one who looked the freshest, was the player who is most commonly derided for passivity, for not grasping the need to get psyched up for domination: Chris Bosh.
Bosh ended the game essentially "chopping wood and carrying water," getting rebounds, blocks and defensive stops. As in, doing the things he does all game, as other, more determined-to-perform players wore down physically and mentally around him. It worked.