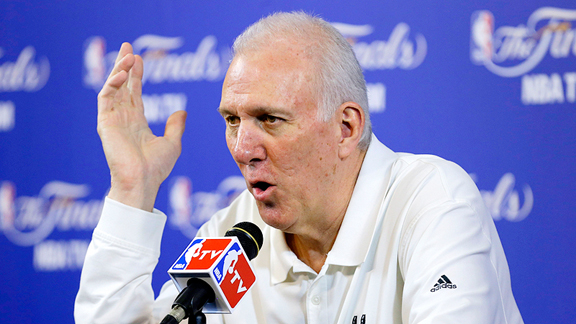 http://a.espncdn.com/photo/2013/0620/nba_a_popovich_b1_576.jpg
Coaching, says Popovich before Game 7, is for "sick puppies."
Gregg Popovich has concocted his own brand of entertainment, which comes in the form of a press conference. He has been honing his technique for decades, and by 2013 it's thick with degrading journalists and picking at the premise of essentially every topic raised.
But it's not without its charms. His performance before Game 7 was one of the finest of the genre. Here's the transcript:
Coach, you've been caught on camera several times telling your players to enjoy these moments. Is it fun for you ‑‑
I never said that.
You said that.
I would not say something like that. I want them to have no fun whatsoever. (Laughter). This is all business. There's no eighth game, is there? This is the last game. That's the best news I've heard all day.
Gregg, why will your team win tonight?
Am I in one of those morning shows? (Laughter). Why will my team win tonight? I hesitate to tell you why I think we'll win or won't win or what's going to happen. I have no clue what's going to happen tonight. All I do is hope, and you hope that your team executes and competes for 48 minutes.
But I have no idea what the outcome of the game will be.
Coach, Game 7s in an NBA Finals don't come around terribly often. Are you able to appreciate the opportunity in the moment or is that for another time?
It's torture. It's hard to appreciate or enjoy torture.
Then what is the best part of doing this, if it is such torture for you?
That's why I always say coaches are sick puppies.
What is the worst torture, to talk with journalists or to be one hour away from the final?
This is one of the joys of my life right here. This is great fun. There's nothing I would rather be doing. (Laughter). The questions are so incisive and well thought out, how can one not enjoy the challenge of trying to find the answer?
I do have a good time doing it in a way. It's all fun.
[Moderator] Thanks, Coach.
I have more time. The busier I am before the game, the less I'll worry. Just keep rolling. Rolling.
Same starters?
You're from San Antonio, I'm not answering your question. You ask questions all the time.
Same starters, yes. Same starters.
Coach, how did your guys manage the last couple of days? What was the mindset like of your team?
You know, he stayed up late for that one. He didn't just wing it, and his boss sent him a little note. He thought. He had a list of about ten questions and as the day went, he eliminated this one and this one and came up with that one. I think that's a great question.
What was the question? (Laughter). I forgot the question.
What's the mindset of your team been like over the last couple of days?
Well, you know, just filling the cup up again basically. That was a devastating loss. To say anything less than that would be disingenuous. One rebound or the next rebound or make a free throw and the game is over. That's a pretty devastating situation.
So from the minute we left the arena it was about mental recovery more than anything, and putting things in perspective, getting to the point where you slap yourself and you don't cry about it and pity yourself and move on and realize that somehow or other you earned two chances to win one game to be NBA champions. That's pretty cool to have that opportunity.
So that's been the emphasis, to get to that point so that cup fills up again and past is past, and go compete. It's right here. That's all that matters. So that's how we spent our time.
Does anything, whether win or lose, go into whether you will want to keep doing this? Do you ever decide you need time to think after a season if you want to keep coming back and do this again?
I think vacation is overrated. I mean, I'll take some time, I'll walk the streets some place and I'll travel and I'll spend time with my family in other places. But after a little while just getting up when you want to in the morning and really not having challenges gets a little boring. You can only grow so many tomatoes and read so many books. You want to get busy, get competitive again.
When I stop feeling competitive around September, then I'll hang it up.
Coach, Pat Riley has said in the past "There's winning and there's misery." Would you go along with that statement or is there something that you could expand on that?
You might think he's being disingenuous, but he's being very, very honest. You've heard it before. Winning is relief and losses are torture and misery.
So why do you do it? I already told you, we're sick puppies.
Have a good night.