How is Josh Howard like global warming? How is Devin Harris like a Béla Lugosi flick? How is J.J. Hickson like Joe Smith? You'll find the answers, like it or not, at the TrueHoop Network: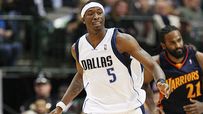 Rob Mahoney of The Two Man Game: "On the court, Josh Howard lives and dies by his emotions. That much is certain. His highest peaks are brimming with confidence and joy, and his lowest valleys are shadowed by self-doubt and disinterest. It's an influence that goes beyond momentum; Howard's emotions inevitably force him into a series of positive feedback loops, self-sustaining spirals that intensify and reinforce themselves over time...
His early career was characterized by nightly demonstrations of athleticism, hustle, and energy, a culmination of the rage of a man denied what he deemed rightfully his: a spot in the 2003 Draft lottery. It should come as no surprise that Howard's determined play earned him consistent minutes and a concrete role on the team, which only fueled his confidence and provided him a bigger soapbox to voice the world's transgressions against him. Howard thrived and, in turn, the Mavericks thrived.
Of course, that couldn't last forever. Howard had earned a reputation as a premier defender, but that status faded as he became more of an offensive threat. Defense is the work of peasants, and obviously something that emerging stars simply cannot be bothered with. Next came the jumpshots: Crossover pull-ups, turnaround fadeaways, and contested jumpers in transition. Becoming an All-Star talent meant taking All-Star shots, degree of difficulty be damned. Lovely.
All of that was manageable, but then a mini-slump was amplified by the death of Josh Howard's mentor/father-figure and college coach at Wake Forest, Skip Prosser, his god-grandmother, and his great-grandmother. Then, with the grieving Howard at his most vulnerable, the Mavs traded his closest friend on the team (Devin Harris) to the New Jersey Nets. So much for support structure.
The 2008 calendar year was about injuries and bad press for Howard. His on-court troubles were trumped by his inability to keep his name out of the headlines, but injuries hobbled the Mavericks' 'most important player' and rendered him almost completely ineffective as he struggled to return to form.
Enter 2009, where a rejuvenated Josh Howard is finally finding himself. Howard's recovery from his various ailments still had Howard tentative in his approach, an issue that wasn't resolved until…the Mavericks brought on Darrell Armstrong as an assistant coach. Does it make a lot of sense? No, not really, but maybe all Howard needed was a familiar face and veteran influence to adjust his basketball compass...
It's strange that Howard's rise and fall are due to events that have very little to do with basketball: His own reputation, deaths to those closest to him, the distancing of a good friend, and reuniting with an old mentor. Upon further inspection, though, should it really surprise us that an emotional, sensitive, and aware player is so affected by events outside his control?"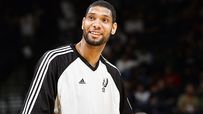 Timothy Varner of 48 Minutes of Hell: "Duncan is out of tonight's contest with right quad tendonosis...This is the sort of injury that requires time to heal. Duncan and the Spurs are not helped by rushing him back. They need to give him as much time as he needs to get back to full strength, a difficult task this time of year. But rest and relaxation may only go so far. One cannot turn back the clock just by spending a week on the dole...
Tim Duncan is getting old. This is a degenerative wear and tear injury. This is something his body is not able to make right.
Couple this with Manu's ankle struggles this season and the Spurs have yet more incentive to get on with the youth movement. They've added a few younger pieces this year, and they would do well to go into the offseason with a mind toward adding one or two more young bodies. In addition to getting younger, I prefer Popovich's minutes management program, up to and including letting his stars forego the rigors of back to back contests. Let the league whine. The games don't count until May and June, anyway."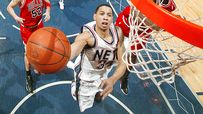 Matt McHale of By the Horns: "[T]his loss was like watching one of those cheesy 1930s era horror movies where the monster keeps coming back to life over and over. Only in those flicks, a scientist either figured out the monster's fatal weakness or a mob of angry villagers burned down the mansion/laboratory/windmill it was hiding in. But Vinny doesn't do science and the Bulls players were all out of pitchforks and torches, so [Devin] Harris had his way during the Fourth Quarter of Doom...
And if I sound even remotely bitter, it's because I am. Harris was burning Derrick Rose, so Vinny Del Negro resorted to what's become his favorite 'trick' as of late: He benched Derrick for the final 4:52 of the fourth quarter. Before hitting the pine, Rose had attempted only one shot in the quarter. Vinny, of course, wanted to put a better defender on the court. But here's the problem: Devin scored 9 points while Derrick was in and then 10 points after Vinny replaced him with Kirk Hinrich."
THE FINAL WORD
Hoopinion & Roundball Mining Company: Two savvy perspectives on last night's Hawks-Nuggets game.
Celtics Hub: Is there such a thing as a "fair" trade involving an NBA superstar?
Cavs the Blog: J.J. Hickson will be a contributor down the stretch.
(Photos by Kent Horner, Rocky Widner, Jesse D. Garrabrant/NBAE via Getty Images)