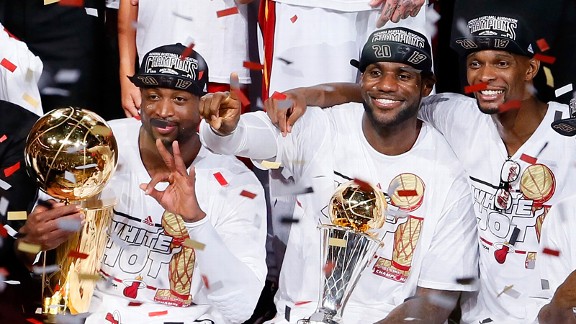 Kevin C. Cox/ Getty Images Sport
The Heat are and will be built around Dwyane Wade, LeBron James and Chris Bosh.
But for those pesky 2010-2011 Dallas Mavericks, the post-Decision Big Three Miami Heat would have never lost a playoff series. As it is, they're a near-perfect 11 of 12 in best-of-seven postseason matchups over three years.
LeBron James is 28. Chris Bosh is 29. Even the old guy, Dwyane Wade, is only 31, and is trained by Tim Grover, the guy who kept Michael Jordan winning titles to age 35.
Over the last three years Miami has won 46 playoff games, in a league where no other team has won even 30.
This is math a kindergartner could do. No, the Heat -- a monstrous playoff victory machine by any measure -- won't be making big changes.
Except, somehow, even since the confetti fell in American Airlines Arena Thursday night, three different people have asked me if the Heat will be dealing Bosh, or Wade or making some other big change.
The answer is it would be nuts.
LeBron James
LeBron James won't be traded -- there's just no way to get equal value, and why would you want to anyway? He's underpaid, in his prime, almost never gets hurt and by every objective measure is beyond compare unless you own the Charlotte Bobcats.
James could, in theory, leave for greener pastures. He, like the others of the big three, will have the right to opt out of his deal after next season. That guessing game will continue forever. The big-time Lakers, the hometown Cavaliers ... you've heard the rumors. But wherever he'd go, he'd be facing key unknowns (chemistry, coach, roster, owner) where in Miami there are knowns that he likes.
"This team is amazing," James said shortly after winning his second title in three years. "And the vision that I had when I decided to come here is all coming true. Through adversity, through everything we've been through, we've been able to persevere and to win back-to-back championships. It's an unbelievable feeling. I'm happy to be part of such a first-class organization."
Chris Bosh
Bosh has long attracted doubters. He didn't go deep in the playoffs in Toronto, shoots 3s, has a distinctively skinny look and, now, scored zero points in the biggest game of his career.
That all misses the point, though, of his job in Miami. As one of the NBA's longest and most mobile defenders, Bosh makes the Heat's high energy, helping, switching, ball-pressuring, turnover-generating defense possible. He denies both options in typical pick-and-rolls. You can't have all those bodies flying all over the court with an immobile big like Kendrick Perkins back there, and you can't generate those LeBron-defining fast breaks without all those turnovers. The instant the Heat ditch Bosh they'd instantly be in dire need of a mobile, dedicated, trusted big man -- preferably one who could hit a jumper when they try to double off him.
In other words, the instant the Heat ditch Bosh, they'd need another one, and there aren't too many guys like that.
And while Bosh hasn't been a featured scorer in this uniform, that part of his game is ready to resume at any time. He was once a premier NBA post scorer, remember.
Dwyane Wade
Wade is the interesting case. Hobbled by bad knees that he says hopefully will not need offseason surgery, he was hardly himself and at times hurt the team through this playoff run. Sitting Wade and replacing him with a cheaper 3-point shooter like Mike Miller, Ray Allen or Shane Battier typically improved the Heat in the playoffs, which raises an obvious question: Can the Heat do better?
But here's where we have to remember how and why these Heat were formed. Winning titles was the end goal, but the process was set by three great players coming together to trust and rely on each other -- as a way of escaping the palace intrigue, power politics and backstabbing that dog a large number of NBA teams. The model of this team is one of family-style trust.
And Wade's at the core of that.
"With our team, we just continue to trust and believe," Wade said after Game 7. "We understand that this is a total team that we have here. And even though it's led a lot of nights by LeBron, myself and Chris, everybody on our team chips in and gives us something."
Wade's value is not just as a player, but as the thread that runs between Pat Riley, Miami, LeBron James and these championships. The Heat are famously loyal, almost to a fault -- just ask Alonzo Mourning. This team would have to stop winning so much before Wade could be shopped, and it's unclear what he'd fetch anyway.
Also, an offseason could make a difference; both his knees and his 3-point shooting are threats to recover for next season.
The role players
Three-point shooters and athletes. Through trial and error it has become clear those are the players who thrive next to James, Wade and Bosh. The team has whiffed with a lot of role players over the last three years, but they're figuring out what works. Just ask the Spurs: the three-star recipe calls for heavy turnover in roster spots four through 15. If they're good, you can't afford to pay them. If they're bad, you can't afford to waste a roster spot on them. So you must always search.
Mario Chalmers, Ray Allen and Chris Andersen all could be free agents this summer.
Greg Oden, Martell Webster, Kyle Korver, Dorell Wright and Jarrett Jack are among the many free agents who might fit. This churn will never end -- and, increasingly, neither will owner Micky Arison's luxury tax bills.
But the three guys at the top of the roster? They stay. Next year is a lock, and beyond that things are unlikely to change without a serious downturn in the team's performance.
"We are excited about the future of this organization," explains Wade. "We'll be back again next year, looking to do it again."