The TrueHoop Network pays homage to the Rockets' stifling defense, a voice for the ages, and a player who reinvented himself on the fly: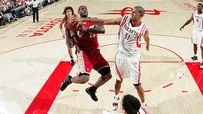 John Krolik of Cavs the Blog: "I think that was the best I've ever seen LeBron James defended. He's certainly had worse games, and 21 points on 21 shots isn't terrifyingly bad, but he was playing into the Rockets' hands from the opening whistle on. The Rockets kept him out of the lane by forcing LeBron directly into their helpers, Yao Ming did a great job of protecting the rim, Artest stayed physical with LeBron, and Battier really did always seem to be one move ahead. At one point, I looked over to make sure Michael Lewis wasn't telling LeBron what to be doing out there.
LeBron's had horrendous shooting nights before, but even then his impact is generally undeniable-he's getting teammates involved, he's forcing the defense to come to him and adjust, he's freeing up a side of the floor, he's scrapping and getting extra chances, he's everywhere at once. In this one, the Rockets were able to render him so ineffective and frustrated when he went to the basket that they actually turned him into a jump shooter, the mythical holy grail of defending LeBron. They were also able to perfectly control his catches so that he never got the ball anywhere near the scoring area.
LeBron spent much of the night catching and shooting directly, and while that allowed him to shoot decently (6-14 eFG% on jumpers, better than his season average of 41%), it took him away from what he's best at, which is getting other teammates involved. Basically, he was playing like a poor man's Mo Williams, which is not something someone with his gifts should be doing. 8 long twos out of 21 shots is not a repeatable plan of action...
I tip my cap in a massive way to Houston's defense tonight-we knew their perimeter defense was going to be absolutely insane with Artest and Battier healthy, and that's what we saw tonight."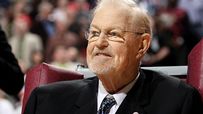 Timothy Varner of 48 Minutes of Hell: "I grew up in the Midwest. My love for basketball began without allegiance to a particular player or team. I simply loved the sport. That love was inspired by more than watching Jordan paint his masterpiece, although his genius certainly played a prominent role. My early basketball memories are tightly connected to three men whom you might not suspect: Hubie Brown, Dr. Jack Ramsay, and Johnny 'Red' Kerr. Some of my earliest basketball memories are of curling up on the couch with my father listening to these men call games. Or, in the case of Ramsay, I vividly remember returning from the library with a copy of The Coach's Art, which opened basketball up to me as something more than basketball.
Our Midwestern cable package included Chicago's WGN and TBS. My enthusiasm for basketball was fueled by Kerr's enthusiasm for the Jordan Bulls; my knowledge of basketball is founded on Hubie Brown's thoughtful analysis. These men spoiled me. Perhaps it's nostalgia, but today I listen to most game calls on mute. That is, unless Hubie or Dr. Jack have the call. When that's the case, I like to watch with my son. 48 minutes of catechesis.
I don't remember much of what Johnny 'Red' Kerr said. That would be a dishonest claim. But I remember how he said it. His wows were the wows of seeing the Grand Canyon for the first time. His excitement was the excitement of buzzer beaters and possession saving dives. Some things are taught and others are caught. I caught an appreciation of basketball as beauty and brilliance and bounty from Kerr -- he injected that germ into my bloodstream. Here I am trying to pass it along to you.
It's sad to see him go."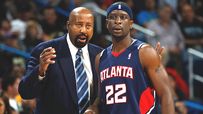 Bret LaGree of Hoopinion: "I was highly critical of signing Murray but he's been a useful (or better) player for most of the season. Credit should go to Rick Sund for acquiring Flip Murray for both good seasons of Murray's career. Most impressive to me is that Murray remains no one's idea of a point guard but someone, be it player or coach, has figured that out and shifted Murray's responsibilities as the season has progressed and allowed him to play to his strengths. Long time Hawks watchers know how unusual it is to see a player of limited, specific skills put in a position to use those skills rather than be asked to be a player he is not."
THE FINAL WORD
Valley of the Suns: What a difference a week makes.
Raptors Republic: Phoenix East meets Phoenix West tonight.
Daily Thunder: OKC should hang onto Joe Smith.
(Photos by Bill Baptist, Gary Dineen, Chris Graythen/NBAE via Getty Images)