Something truly fascinating, and wholly surprising happened last night.
The conversation begins with a couple of bedrock realities: As staffed by the front office, the Portland Trail Blazers have a roster of gazelles. LaMarcus Aldridge might be the fastest big man in the league. Rudy Fernandez, Jerryd Bayless, Nicolas Batum, Travis Outlaw, Sergio Rodriguez ... they're all young, healthy, and ready to run.
Yet they very seldom do.
Just like when he was in Seattle, Nate McMillan coaches a low-turnover, high-efficiency offense. And while I quibble with the pace factor that has suggested the Blazers were the NBA's slowest team most of the season (that measure makes teams look slower every time then get an offensive rebound, and faster every time they turn the ball over -- Portland gets a lot of offensive rebounds and not a lot of turnovers), they have still been very very slow.
McMillan's tight-fisted control seems to have been working. Despite having the second-youngest roster in the NBA, the offense is more efficient than every single team except the Lakers.
And yet -- you can't help but wonder. If this team had a little more room to run ... couldn't they put some of their assets to better use?
I suspected we would never really get to find out. Not this season. Not with a team of youngsters, a controlling coach, and playoff positioning in the balance.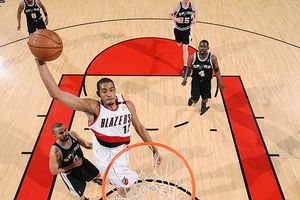 But there was a perfect storm last night. First of all, both the Rockets and the Spurs, on successive nights, showed the Blazers extraordinary, playoff-type defense. Just like they have been doing all season, Portland spaced the floor, and then drew double-teams. But instead of then finding wide open scorers, they found bottlenecks. Players with no room to catch, no room to shoot, and certainly no room to be efficient.
The whole idea behind using the clock was to find a better shot. But the more clock they used against those teams, the worse the scoring opportunities became.
After watching for a while, you just couldn't get away from the idea that it was bad for the Blazers to let the defense get set up every time down the floor. Good shots were hard to find, and none of Portland's shooters could get up enough shots to feel hot.
Meanwhile, Portland was just passed by the Rockets in the standings, with the healthy Jazz, revunated Suns, scary Hornets, and warming up Mavericks are all within three games.
So, last night was no time for Nate McMillan to prove a point. Instead, Portland did something new. They ran. They shot early in the clock. They deliberately pushed the pace.
And it was like they had been a plane on a runway their whole lives. They got up enough speed, and then ... flew.
The Blazers took 24 shots in the first quarter. That is a ton of shots for them ... a blistering pace. Things were noticeably different. There has not been a single game this season when the Blazers kept up that shooting pace all game long -- and they didn't keep it up in this one either.
But that's when they won the game. Portland was up 33-21 after the first quarter, and then 46-21 a little more than three minutes after that. From that point on, the Spurs were slightly better than the Blazers. The pace slowed a ton. But San Antonio lost by a country mile, because of the game's first 15 minutes.
No, I'm not reading too much into it. Yes, I realize a lot of what happened was that Tim Duncan -- fresh off an injury -- was out of sync. Manu Ginobli was missing entirely, Portland's shooters not at all.
But Portland also contained a decent percentage of Tony Parker's drives, frustrated Duncan with long bodies, fought like crazy for rebounds, and did not turn the ball over.
And ... thanks to embracing speed, the Blazers also found a lot of clean looks in transition. As a result, Portland got its most important win in recent memory.
There's always a fine balance to be found between imposing a coach's system and giving players the freedom to find their own solutions. There is no correct answer -- other than to continue try to find the right combination. On this night, however, a little less control from the sidelines, and a little more improvising on the fly, looked just right.
I am a Blazer fan, and have long intellectualized the idea that this young roster would one day be a championship contending team. But sometimes making plans into realities is about seeing, feeling, and touching the future. Last night's first-quarter was the first time I have ever had a real idea what that would look like and feel like when this team emerges into greatness.
UPDATE: John Hollinger (Insider) writes:
I think there's a particular aspect to it that deserves more attention: LaMarcus Aldridge's ability to consistently outrun opposing big men.

It sure seems to me that the Blazers are looking to hit the ball ahead to Aldridge a lot more than they used to, and that he's getting some easy points this way -- much as he did last night in a blistering 8-of-9, 21-point, no-turnover first half.

I talked to Steve Blake about this after the game and he said that there wasn't any specific command from the coaches, but that the "flow of the game" had presented opportunities to get Aldridge the ball in those situations, and that Aldridge ran the floor better than any big man he'd ever played with -- not faint praise from a guy who played with Antawn Jamison, Chris Wilcox, Kenyon Martin, Marcus Camby and Charlie Villanueva.
(Photo by Sam Forencich/NBAE via Getty Images)